You might recall a post from last August where I showed a driver had been repeatedly placing a blank parking ticket on his vehicle, and a parking enforcement officer placing a large blue bag in the rear seat. If not, see Parking Enforcement Officer Kept Putting A Blue Bag In A Vehicle Displaying A Fake Ticket.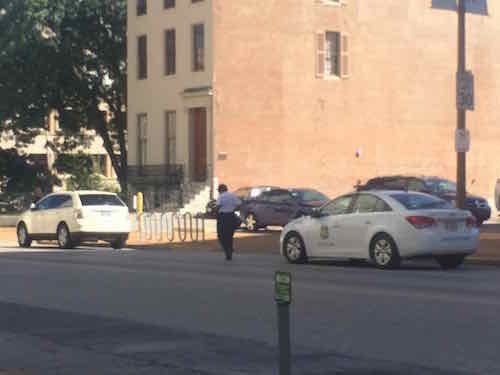 Many were curious about the situation and contents of the bag. Even though I was threatened by the owner of the Ford Edge, the police refused to do anything — they turned it over to the Treasurer's office who oversees parking. The Treasurer's office refused to tell me anything beyond it was a personnel matter, the POE was suspended without pay for two weeks. Case closed.
What I didn't know, until recently, was Post-Dispatch transportation reporter Leah Thorsen was pursuing the matter.     She filed a formal records request, which was declined citing personnel issues. An appeal to the Attorney General was also denied.
However, very recently she was told by the Treasurer's chief of staff, Jared Boyd, it "was a gym bag with a purse inside." Really? Who puts a purse inside a gym bag and drops it off routinely? After I met with the reporter I suggested she ask the owner of the Ford Edge — I still see it routinely — just parked in the YMCA lot rather than on the street. A week ago she asked him:
On Monday, the SUV was parked in the Downtown YMCA lot, where patrons must pay $1.50 to park during daytime hours.

As he left the gym, I asked him what was in the bag placed in his vehicle over the summer.

"It was a lunch bag," he said before slamming the Edge's door. (Post-Dispatch)
I think only two people know the contents: the PEO & the owner of the Ford Edge. I knew it was a gym bag — but they can hold a myriad of things. Months ago I saw a PEO pulled into the YMCA parking lot but I couldn't tell if a bag was dropped off. Since then I've not witnessed anything suspicious.  The purse (wink) or lunch (wink) drop offs ceased.
Tishaura Jones is running for reelection as Treasurer, the primary is August 2nd. Filing closes March 29th.
— Steve Patterson