Our publicly-owned convention center, known as America's Center, surrounds the privately-owned parking garage at 701 N. 7th Street. The garage, built in 1964, is attached to the former Stix, Baer and Fuller/Dillard's department store building — now a mixed-use building. The pedestrian bridge over 7th St still exists, but is closed.
The garage was more than a decade old when the Cervantes Convention Center was built across Convention Plaza, previously Delmar. In the early 90s Cervantes was expanded South to Washington Ave and the dome was built to the East. That's when the garage became surrounded on the North, West, and South. Convention guests can park in the garage and go directly into the convention center.
I photographed from the garage in August 2010, and again last week. During my recent visit I noticed damage I didn't see nearly 6 years earlier.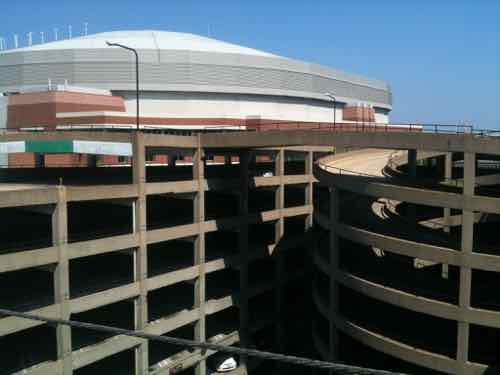 I'm not not qualified to evaluate the damage or integrity of the structure, so I emailed the last four images to reader Mark-AL, an engineer who specializes in parking garages. From his reply:
It's a garage restoration contractor's pot of gold! It's a classic case of garage neglect, where the operator has failed to protect the decks with a sealer or coating and has allowed water to infiltrate the deck, rusting the rebar mats and (probably) the post tensioned cables. The rust on the bottom mat steel has resulted in spalling concrete and general degradation, resulting in loss of deck strength and homogeneity. The upper level of rebar mat is most likely in equal or worse condition, and only god knows how the post tensioned cables are holding up, even though they are likely plastic encased. If the concrete deterioration is widespread and into the PT cable anchorage zones, it is probable that the decks lack the elasticity and plasticity required of the original design, resulting in increasing frictional losses–all of which says that the decks are no longer ready for prime time!
What we don't know is if the operator is responsible for maintenance, the current operator might not have had the contract very long — we just don't know. We do know from the lawsuits, regarding the garage at Tucker & Locust, that an operator can only do so much for a structure at the end of it's useful life. That condemned garage is three years younger than the convention center garage on 7th.
City records show only one inspection — on July 2, 2008. The four violations were complied on June 23, 2010. This morning I'll be emailing this post to officials at city hall (including the building inspector), Kitty Ratcliffe at the Convention & Visitors Bureau, and the current operator, SP+. They can be the ones to determine if the garage is safe to use.
— Steve Patterson