Let's assume Hudson Holdings moves forward and buys the Railway Exchange for redevelopment, see Friday's post: Cautiously Optimistic About the Future of the Railway Exchange Building, parking may be an issue.
The Railway Exchange occupies city block 128, bounded by Olive, 7th, Locust, and 6th. It contains 1.2 million square feet but not a single parking spot. In the early 60s buildings to the South were razed so a 1,000-car garage could be constructed.
b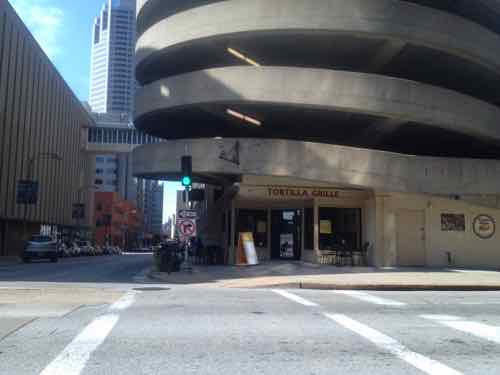 The garage has lots of issues:
It's 54+ years old
It has low heights
Looks dated inside & out
Is awkward to use as a motorist
Is unsecure — elevators open onto the sidewalk
Using some of the building's square footage for parking is an option, especially the basement level. The problem? The building doesn't have a back side. All four facades are finished and face public streets.
Last year parking came up for the Mark Twain Building in Kansas City, another future project of Hudson Holdings:
According to Chuck Reitzel, a project manager with Ebersoldt + Associates Architecture, Hassenflu is not planning parking on just four floors. Reitzel, who is Hassenflu's architect for the Mark Twain project, said parking is planned on six levels: the lower level, first floor, a mezzanine level, and floors two through four.

The parking would be accessed off of Baltimore Avenue through a new garage doorway cut into the northeast corner of the building, Reitzel said. He said a driveway would proceed from the entrance through what his now retail space occupied by Goodden Jewellers, with a circulation ramp allowing motorists to access higher levels.
See the facade they wanted to cut open for garage access here, next door is a parking garage.
Back to the Railway Exchange…
Another option is to raze the 1962 garage and start over with a modern garage, or perhaps just a new structure to go under Olive St into the building.  Either would be very expensive.
I favor building the modern streetcar project that was floated a few years ago, it would run on 2-3 sides of the Railway Exchange.  T
he ground floor of the Railway Exchange should be active habitable space — restaurants/retail– not parking. No garage access/curb cut should be permitted either. Already too many garage entries to negotiate as a pedestrian downtown.
— Steve Patterson