The 2-story building at 620 Market Street, at 7th, was built in 1968. Most recently it was Mike Shannon's restaurant, originally it was a bank with drive-through tellers. My first time in this building was in the early 1990s when the offices for the East-West Gateway Council of Governments — the region's Metropolitan Planning Organization (MPO). The building faces 3 streets: Market, 7th, and Walnut.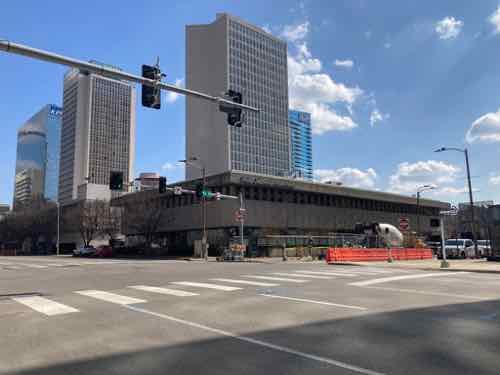 Soon the building will be razed so a new building can be constructed on the site. Good riddance. Seriously, it's awful for a central business district, but it's exactly what to expect from the 1960s. Here's more photos from years past.
The new building won't be an office building, but rental units over parking — exactly what you'd expect in today's current development climate.
The construction will be a 3-story garage with 5 stories of wood-frame units above. There will be both street and paid garage parking. Public dog park areas abound and a 3rd floor courtyard facing the east will provide residents with an outdoor pool and yoga. A roof top viewing deck of the Arch and the Stadium and the skyline will be a great amenity. An on-site leasing office, cyber cafe and a community/fitness area will be placed on the ground floor along with 4955 square feet of retail/restaurant space. (Garrison Companies)
The developer's website mentions the Ballpark MetroLink station only a couple of blocks away, and the new residential building over a new Target under construction at the Grand MetroLink station. Though they think Grand is "only a light rail stop away." These light rail references combined with the "paid garage parking" tells me a parking spot won't be included in the rent — such unbundled parking is ideal. Hopefully I'm reading this correctly.
While all the downtown condos I'm aware of all have an assigned space, many rental buildings don't include a parking spot. Less "free" parking means fewer cars, greater use of public transit.