For over 5 years now I've been thinking about how to redesign the Bank of America Tower at 100 N. Broadway. My primary beef wasn't with the 22-story tower, but with the 1-story section to the South of the tower.
First, a little background:
Bank of America Tower is a 22-story, 500,000 square foot Class-A office tower located in the heart of the prominent Downtown St. Louis market – the regional center for Missouri's largest law, accounting and financial service firms. Located at the intersection of two major downtown arteries, Broadway and Pine, the Bank of America Tower offers easy access to the region's extensive highway system and Metrolink light rail system.

Bank of America Tower was built to exceptional standards in 1976 as the corporate headquarters facility for Boatman's Bancshares. Designed by the world-renowned architectural firm Hellmuth, Obata & Kassabaum, the building features exquisite granite and marble finishes throughout and floor configurations which offer tenants breathtaking views.

Hertz Investment Group acquired this prestigious property in 2005. It is currently owned and managed by Hertz Investment Group. (Hertz Investment Group)
NationsBank bought Boatman's Bancshares in 1996, and two years later it bought the larger BankAmerica Corporation — taking the name Bank of America. At some point the building was sold to investors. Through all the ownership changes the 1-story section remained a branch bank — until November 21, 2014.  See: Bank of America closing one of its downtown St. Louis branches.
My design idea is directed at the San Diego owners, I'm not proposing taxpayers do or fund any of what I'll suggest below. Some of you may think if there was market demand for my idea it would already exist. This viewpoint ignores the fact that markets & buildings are constantly changing to reflect new market conditions. Because building changes don't happen overnight, there's a delay between a shifting market and physical changes.
Before I get into my idea I want to show you more of the photos I took in June 2010:
I returned in September of 2010 to have another look. With an active bank branch in the 1-story part my focus was on the tower's ground floor facing Broadway. This time I did do a brief post, sharing the next two images. The captions are new.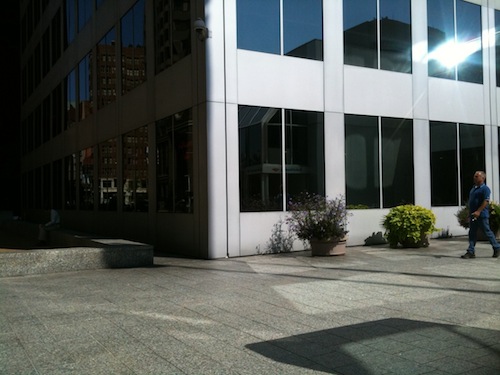 The Atrium Cafe was very good, but it's only open for lunch weekdays. Given that it's hidden from anyone outside, that makes sense.
After the Bank of America branch closed I returned in July of this year to see the interior space and take another look at the exterior.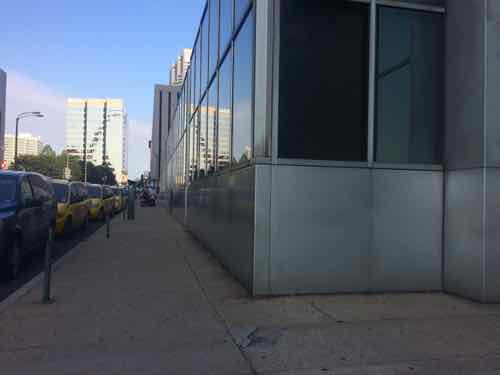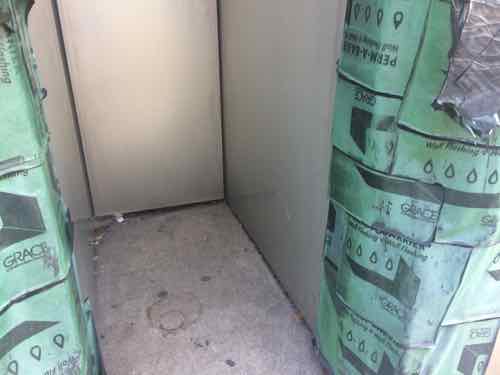 Even at this point it hadn't hit me, though I knew the protruding greenhouse glass had to go. It was on my 2nd visit to the new Luther Ely Smith Square that I figured it out. Lets start with the last photo from that post.
The owners consider Broadway & Pine the main corner, but the diagonally opposite corner is positioned to take advantage of the new Square and future Arch entrance.Many Arch visitors will park in the Kiener garages and walk right past 100 N. Broadway.
The solution is to remove all the glass & cladding from the 1-story section and rethink it. The space has been vacant for over a year, with bank branches continuing to close it's unlikely a bank will lease it. It is time for s physical change to the space to respond to the changing market. It isn't 1976 anymore!
So my thought is this should become a restaurant. Not a weekday lunch-only spot but a place open for breakfast, lunch, & dinner 7 days a week. With all the tourists it should be familiar — Panera — still called St. Louis Bread Co here. There's one on the ground floor of the Kiener East garage a block West — this could be a larger more up-to-date location.
Here's more detail:
Remove the greenhouse glass from all three sides, widen Chestnut sidewalk
Create new building lobby with door to new restaurant — not open like it has been for nearly 4 decades.
Place the kitchen & restrooms in the center.
Include an elevator and stairs to a new rooftop patio. Shade for rooftop patio could come from a pergola, stretched canvas, umbrellas, etc.
Nighttime lighting would be important to make this a great evening destination.
A St. Louis Bread Co here would be bad for the Atrium Cafe, perhaps they move to the old Bread Co space a block West. Their old space could be opened to the plaza like I suggested in September 2010 — occupied by a restaurant different enough from Panera/Bread Co. to survive.
The other side of the Old Courthouse has a similar low platform with tower arrangement. That low platform is occupied by the inwardly-focused Tony's. I don't see change coming to that building anytime soon. The owners of 100 N. Broadway have a great opportunity to rethink their building to take advantage of the new Arch entrance.
— Steve Patterson
b
b
ht