Regular readers know I have a strong dislike of the interstate highways that were forced through existing dense urban neighborhoods, destroying social networks and dividing neighborhoods. So it's no surprise I've thought about I-64 in Midtown St. Louis for decades.
It was August 2021 when I learned MoDOT would be undertaking the huge task of rethinking the stretch of I-64 between Jefferson and Kingshighway.  Nine months later, in May 2022, the Future 64 planning project finally went public:
The I-64 Corridor between Kingshighway and Jefferson is an essential route for homes, schools, and businesses. The Missouri Department of Transportation (MoDOT) is working with the community to determine the future of the corridor in terms of needs and desired outcomes. Before MoDOT makes any improvements to the corridor corridor, it will evaluate the existing conditions of roadways, interchanges, surface streets, and bicycle/pedestrian access.   

The method the department is using is formally known as a Planning and Environmental Linkages study or PEL. This PEL study will look at the potential impact future projects will have on the environment, the community, and connectivity in the area. MoDOT is conducting the PEL now so when funding is identified for corridor projects, construction can begin sooner.

The PEL study for the I-64 central corridor is called: Future64: Community. Transportation. Together. The title reflects the importance of public engagement and community involvement in this process. As a result, this study will incorporate ongoing engagement that is equitable and inclusive to help ensure that a wide range and extensive number of voices are heard, and that equity is the focus of proposed solutions. (MoDOT/Future64)
Typically MoDOT doesn't take the time to rethink, they just replace what was there. Example: the South Broadway bridge over I-44 downtown being replaced without any pedestrian sidewalk (see This Is Our Chance To Reconnect Two Neighborhoods Long Separated By Highways).
So this planning effort is an important milestone.
After the project went public some immediately began posting their ideas, but I'm a little slower in both my analysis and presentation.  Now, a year after I began thinking about specifics, I'm ready to share what I've come up with — and why.
First we need to look back at what the area looked like pre-interstate. In February 1909 if you were heading west on Market and reached Jefferson the main road bent to the left but became Laclede. Market west of Jefferson was a minor residential street. Between Beaumont & Leffingwell the road split again, with Laclede continuing ahead and Manchester off to the left. To repeat: Market briefly became Laclede, which split off to Manchester at a diagonal. Yes, Manchester used to run at a diagonal heading through what later became known as Mill Creek Valley toward downtown.
Go ahead, look at a map and visually draw a line between Manchester & Vandeventer and Compton & Market. Because of the many rail lines Manchester wouldn't have been a straight line, it would have bent to the north of them. My point is a century ago streets continued uninterrupted, but highways/interstates (and industrialization) radically altered the landscape to make life easier for those behind the wheel of those noisy new horseless carriages (shaking cane). It's possible the Manchester  connection was severed prior to the highway but I didn't want to further delay this post while searching the Post-Dispatch archives for the answer.
It's a given that I-64/U.S. 40 will not be removed, or buried in a big dig. What is happening now will determine how it looks and functions for the next 50-70 years. Next we need to list and look at what I see as the problems to solve by changing how the highway and interchanges are currently configured.
Large amount of land used, wasted
Pedestrian & bicycle navigation of area is challenging, nearly impossible, the local street network decimated
Driving the area is also challenging, with awkward & confusing on/off ramps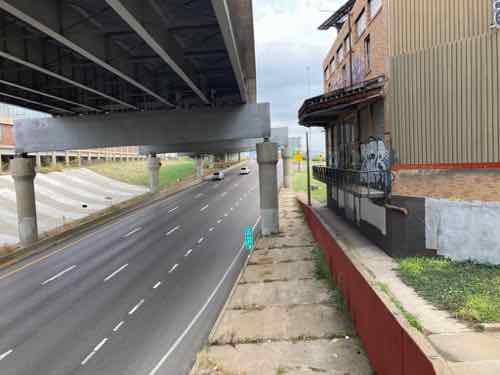 Okay, here's my proposed solution.

Key:
Yellow: existing streets
Green: new or revised streets
Red: interstate
Purple: existing ramp
Orange: new on/off ramps
Light blue:
Let's start on the left/west side.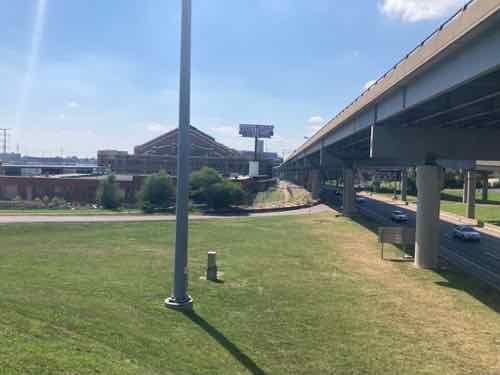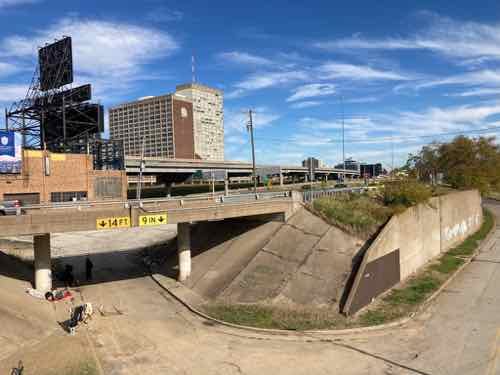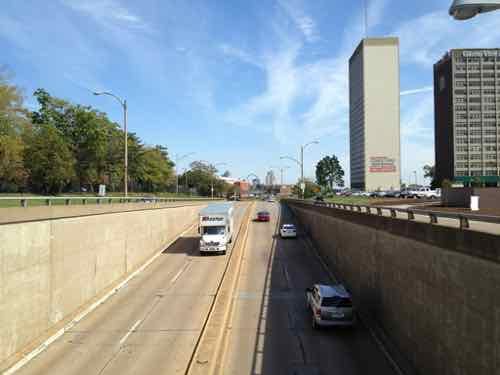 Ok, lets move down to the big area to the east.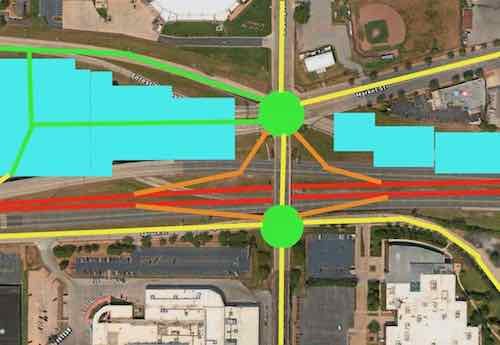 The two green circles are roundabouts. Market Street could continue into the center of the newly developed area. Ideally 5+ story building would be built as a terminus to the view when heading west on Market. A new north-south connection through the new development would allow access to Spruce Street and the other parts south of I-64. The eastbound lanes of I-64 would need to be shifted north to give room for the on/off ramps at roundabout at Compton & Spruce. The westbound lanes of I-64 can shift south to free up land for development.
I'm not a traffic/civil engineer so I might not have sufficient room for say acceleration/deceleration on on/off ramps or some other detail, but I think this accomplishes the job of fixing the current problems. It gives more room for development, and increases connections for all modes of travel.
I'd love to see the new development include a variety of residential price points from low income to top market rates, parking available at a rate of less than one space per dwelling unit. It shouldn't all be expensive housing geared toward college students. Other uses include office, retail, small manufacturing, perhaps business incubator space, etc.
I don't know that I'll live long enough to see any changes, but hopefully these ideas will be helpful to the process.
— Steve Patterson