The Civic Center MetroBus Transit Center, at 14th & Clark, is now closed for the next 18 months. It will be redone to handle more buses — and longer buses.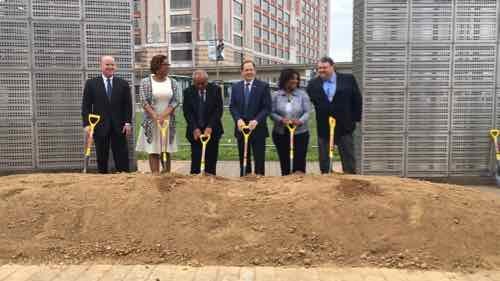 In May 2014 I posted about the future plans for the redo, see Civic Center Transit Center Sans Trees, Awaiting Redo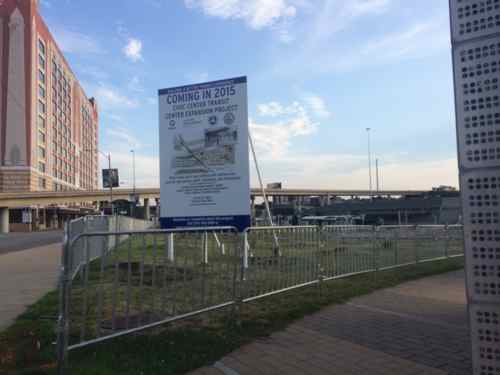 Then, in July 2014m I posted that the  Triangle Park Plaza Is Useless Public Space, In Poor Condition. At that time I included the design.
b
Construction will expand the Civic Center Transit Center and triple the current number of bus bays, which will allow MetroBus passengers to connect with all of their bus routes inside the transit center and out of vehicular traffic on 14th Street. A new building will also be constructed on  the site that will feature new passenger amenities, including public restrooms, an indoor waiting area, digital boards with MetroBus arrival times, a concession area and a Metro Public Safety substation.

"It is our duty to ensure that residents, workers, tourists and visitors can travel safely and efficiently throughout the bi-state region," said Ray Friem, Executive Director of Metro Transit, "and that they enjoy the best possible transit system and experience we can provide."

Metro successfully secured federal funding to rebuild the Civic Center Transit Center, and those funds will support 80 percent of the total project cost of $10.5 million. "The competition for federal transit dollars is intense," said Mokhtee Ahmad, Regional Administrator for the Federal Transit Administration, Region VII. "Bi-State Development and Metro are to be commended for being so diligent and fiscally conscientious in maximizing federal transit funds to get taxpayers the highest return on their investment."
b
The design has changed.
The ramp down to the MetroLink platforms is much more direct — but steeper than previously drawn. The other changes are at the North end. There's now an accessible route from the center bays/canopies to Triangle Park. The "park" is also different — the metal panels (shown in first photo, above) will go away. A 2nd sculpture is shown right in front of the accessible route — a potential problem.
I also don't get having a new sculpture next to the existing one.We'll see how it turns out in 18 months.
— Steve Patterson