Yesterday I posted about a privately-owned surface parking lot that has used 75o square feet of the public right-of-way for years, see Deutsch Family Has Profited From Public Right-Of-Way For Nearly Two Decades. Today's post is about another privately-owned surface parking lot five blocks West.
The lot at 1601 Locust St. is next door to my condo building. When the original condos were sold, and when I bought a couple of years later, in 2007, the lot was under control/ownership of Loftworks  — the developer of Printer's Lofts. The plan was to construct a new building and connect to the existing two. However, the economy fell out and Loftworks lost control of the lot.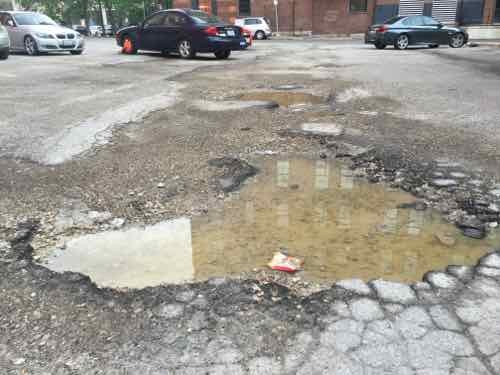 I first complained about the condition to the Citizen's Service Bureau in 2013, have done so twice since then. Each time the complaint has been marked resolved. I'm told by 5th Ward Neighborhood Improvement Specialist Sharie Taylor that the owner has been sent multiple violation letters. In an email to me she wrote:
[The inspector]  currently has this property under notice and will be doing a reinspection in the near future. If the owner has still not complied, then they will receive fines for each violation. Unfortunately, beyond that, the city can't do much to force the owners to fix the lot.
I asked about court, and she confirmed that's the next step if fines aren't paid. My motivation, however, is maintenance & upgrades. Upgrades, not just new asphalt? Yes, because two other problems exist. The one disabled spot is not identifiable:
What remained in 2013 is no longer visible. The other issue is people parking on the 16th Street sidewalk — easily prevented by wheel stops.
Again, wheel stops along 16th Street would prevent cars from pulling so far forward they overhang the sidewalk or have tires fully on the sidewalk.
Unsatisfied with the city's pace, I faxed the owner, Kathleen Bonan, manager of Saylor Properties #1, LLC, which has the same address as the law form Bonan, Bonan, & Rowland: 116 E. Market St. McLeansboro IL  Faxed? Yes, no website or email could be found for their law firm.
There are a lot of Bonan's in McLeansboro, like Hunt:
One of southern Illinois' largest contributors to Gov. Rod Blagojevich's campaign fund denied pay-to-play politics were a factor in his appointment to the state Department of Employment Security. 

Since 2002, Hunt Bonan, owner of Market Street Bancshares, the holding company for Peoples National Bank, made personal contributions to Friends of Blagojevich totaling $20,375, according to the State Board of Elections. Contributions listed as provided by Market Street Bancshares total $124,225. 

Bonan is one of six residents from either Mount Vernon or McLeansboro to receive appointments during the governor's six years in office. (State Journal-Register)
He and his brother bill are part of People's National Bank.
On August 8, 1988, shareholders Bill Bonan, an attorney, and his brother, Hunt Bonan, formed a bank holding company for the purpose of acquiring 100% of the stock of Peoples National Bank. The holding company was named Market Street Bancshares, Inc. as a reference to the location of their family law firm, Bonan & Bonan, on Market Street in McLeansboro. At the time the holding company was formed, Peoples National Bank assets totaled $50 million. The original Board of Directors of the holding company was comprised of:

Bill Bonan, Chairman of the Board, Secretary and Treasurer
Hunt Bonan, President
Frank Bonan, Attorney at Law – Father of Bill and Hunt Bonan
Duane Baumann
Steven Epperson
Richard Rubenacker
Bob Prince
Don York
I don't see financial hardship being a reason for the condition of the lot.
Later this week I plan to stop by the offices of the operator, SP+/Central Parking, located at 720 Olive, Ste 1650. Between them and the owners this mess needs to get addressed!
— Steve Patterson