The intersection of two major downtown streets — Olive St & Tucker Blvd — is poorly designed for pedestrians. The are a number of problems, but this post is about poor communication to pedestrians that puts them in harms way. Specifically, vehicles that get a left-turn arrow from Tucker to Olive are on a collision course with pedestrians that don't realize cars will be turning left into their path.
Vehicles traveling Northbound & Southbound on Tucker each get a dedicated left-turn lane onto Olive, Westbound & Eastbound. respectively.  Each gets a left arrow, so drivers assume they have the right-of-way. "What's the problem?" you ask. Pedestrians can also think,due to a lack of pedestrian signals, they have the right-of-way.
At the start of the cycle SB vehicles on Tucker get a green light, left onto EB Olive get an arrow.
After a bit the arrow goes away and NB traffic gets a green.
Later the SB traffic gets a red and those going NB get a left arrow onto WB Olive.
Pedestrians & vehicles can't both have the right to be in the same place at the same time!
You might be thinking "pedestrians should just look at the vehicle signals to know when it's OK to cross Olive." For SB pedestrians on the East side of Tucker & NB pedestrians on the West side of Tucker the vehicle signals don't indicate vehicles have a left-turn arrow.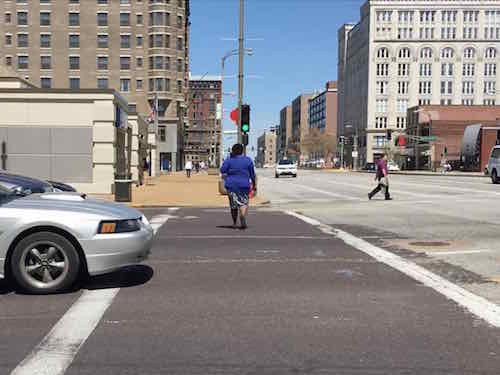 So the first should be a relatively easy to get to achieve minimally acceptable communications — turn the signal head so pedestrians can see the green & left arrow. But the second isn't as simple.
If possible, the bare minimum would be to change the signal head so it includes an arrow. The problem with this is the arrow might suddenly appear as a person is halfway across Olive. This really needs a pedestrian signal with a countdown timer. Another option is to redo the signal configuration — allow both left turns to happen simultaneously — then give them a red while NB/SB vehicles get a green.
Ok, so one intersection — fix it and move on, right? If the woman in blue in the 2nd image keeps waking North she'll encounter the same conflict one block up at Locust St!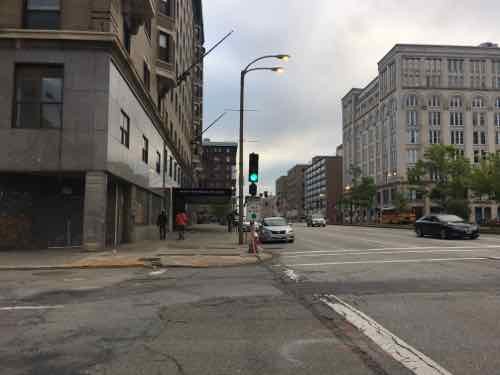 These are just a few examples of the dangers designed into our auto-centric system. I've been through these intersections many times, but had never noticed the conflict — because I'm familiar with the vehicle flow. A downtown visitor, however, might not be confused, or worse, became a pedestrian death statistic. If a pedestrian is hit by a left-turning car in these examples it's no "accident" — it's by design! Sadly, these conflicts have likely existed for years — perhaps even decades!
Every intersection in the city/region needs to be critically evaluated to catch conflict by design. Prioritize then and then set about correcting them. I pointed out the conflicts at Olive to St. Louis' new Bike/Pedestrian Coordinator, Jamie Wilson, last week as we walked/rolled to lunch.
I've volunteered to:
Start a custom Google map where I can catalog problems I encounter.
Go out with him and other, upon request, to demonstrate the problems with out pedestrian infrastructure
Below is time-lapse video looking South and then North
— Steve Patterson