In a couple of weeks Metro's new North County Transit Center will open, so many MetroBus routes will see major changes:
Metro's quarterly service change on March 14 will impact the operations of 48 MetroBus routes in the St. Louis metropolitan region, including the introduction of nine new MetroBus routes and discontinuation of service on eight routes. This service change will also introduce a new and completely redesigned MetroBus service plan for North St. Louis County, made possible with the opening of the new North County Transit Center in Ferguson, Missouri on March 14. (Metro)
On that same day, changes will take place in downtown (technically Downtown West):
The Civic Center Transit Center is scheduled to be closed down for construction activity shortly, at a date to be decided. In advance of the closure, Metro has prepared bus stops at 18th Street & Clark Street, adjacent to the Union Station MetroLink, to provide the same system connectivity. 

The routing and schedules of the routes serving the Civic Center Transit Center have been modified to serve 18th Street & Clark Street to ensure the same connections with the other MetroBus routes and MetroLink at Union Station instead.

Please note that till the closure of the Civic Center Transit Center, these routes will continue to serve the Civic Center Transit Center. Public Announcement of the closure of the Civic Center Transit Center will be made in advance of the event. (Metro)
The following MetroBus routes will change to include 18th & Clark.
10 Chippewa
32 ML King-Chouteau
41 Lee
73 Carondelet
80 Park-Shaw
94 Page
97 Delmar
99 Downtown Trolley
40X I-55 Express
58X Twin Oaks Express
410X Eureka Express
When I need to catch the #10 Westbound I do so at 16th & Olive, but starting March 14th it'll use 18th rather than 14th Street. Same goes for the #97  — I usually catch it at 16th & Washington but it'll turn on 18th.  Those who ride the #94 & #97 to Washington & 14th, then catch the #99 Downtown Trolley to take them the rest of the way into the Central Business District (CBD), will need to figure out an alternates. Perhaps catching the Trolley bus at Civic Center/18th & Clark? That'll require more time though — years ago more bus routes entered the CBD.
For a few months now I've been watching the changes at 18th & Clark. I posted about the upcoming Civic Center changes in 2014, see Civic Center Transit Center Sans Trees, Awaiting Redo.
Before I get into the recent changes along Clark I want to show you the before conditions, in October 2011 & August 2012.
Ok, so now you've seen the before. In December last year I began seeing work going on so I braved the cold one day to get some pics:
I was encouraged seeing the West end of the crosswalk completely removed — a fresh start so it'll be done correctly! I returned a month later, in late January:
I returned again, a month later, on February 26th:
The ramp location behind the crosswalk is a head scratcher, for sure. I resisted the urge to post it to social media — opting to wait until the project is closer to completion.  I even went back yesterday to see if the crosswalk had been changed. It hasn't. I also discovered another problem: pedestrian signal location.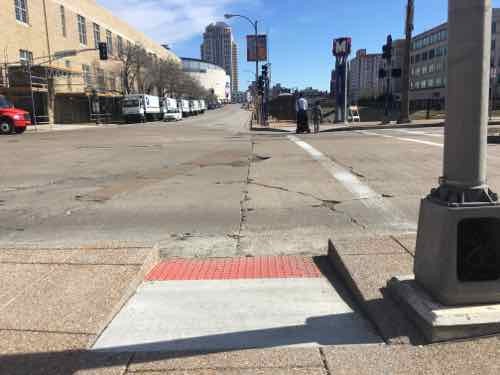 The best words that come to mind are gross incompetence. Both sides were completely opened up — all new concrete. That was the time to move pedestrian signals so they align with the crosswalk, to build the new ramps so they also align. I'm not sure if St. Louis' new bike-pedestrian coordinator reviewed this, but other civil engineers did see it on paper. This is yet another thing making me realize I need to live in another city.
— Steve Patterson