There are some who envision one mile of our Washington Ave (from 4th to 18th) as being a retail street like the Delmar Loop or Chicago's Magnificent Mile along Michigan Ave. One person even wants to use a proposed form-based code overlay to mandate a retail use on the ground floor. Yes, the idea of using a form-based code to regulate uses is illogical. The whole point of moving from use-based zoning to form-based zoning is to get the form correct.
Recognizing uses change more often than the physical form of buildings.
It was a December announcement that prompted this push for a retail street:
LockerDome, which currently has 45 employees, moved to a 6,800-square-foot storefront on Washington Avenue in 2012 but has outgrown that space, said its chief executive and co-founder Gabe Lozano.

After a 120-day build-out set to begin in the second half of 2016, LockerDome's employees will move to occupy an 18,000-square-foot building a block away at 1314 Washington. (Post-Dispatch)
LockerDome is a St. Louis-based tech company.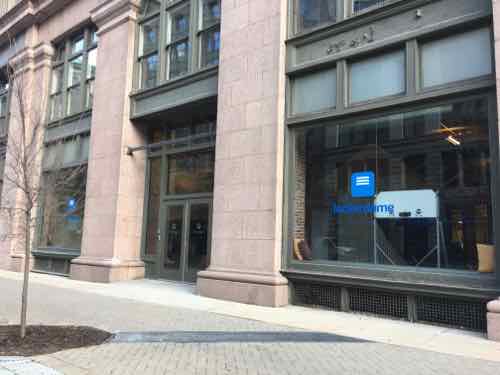 Both have the form right, both have windows we can see into day & night. Some think a gym is an acceptable use on a retail street — but a high-tech firm is not. I personally don't care what's going on behind the facade. I can see into the windows when I pass by.
But one person would prevent LockreDome from occupying the ground floor of this building — he doesn't want offices on ground floors. Yet, firms want to be located on Washington Ave. because it is the most vibrant part of Downtown/Downtown West. With the upper floors converted into residential there are too few options for large offices. For that matter, there are too few spaces for a larger retailer like a CVS/Walgreen's.
What makes a credit union/bank lobby ok, but not a creative office?
It's the non-creative offices that are the buzz kill…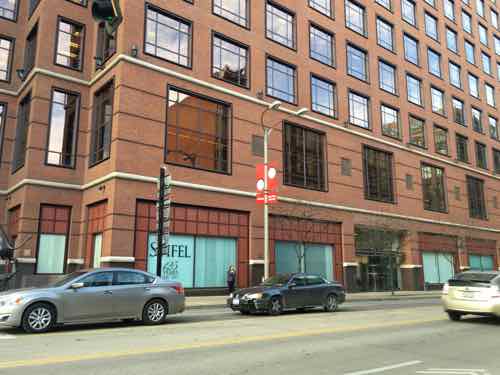 Regulating uses is arbitrary — which is why I want the city of St. Louis to abandon old-fashioned Euclidean use-based zoning and adopt form-based zoning. Form-based zoning, however, can be used to regulate the form – largely windows & doors at the ground level where pedestrian activity it to be encouraged.
Many ground floor offices downtown keep their blinds closed 24/7 — that's something a form-based code could/should address. We need uncovered windows where we can see activity going on inside. But could Washington Ave become a retail street like the Delmar Loop or Magnificent Mile?
No — both of those were built for retail purposes.
This mile of Washington Ave has had many uses over the decades — the middle part included sweatshops where immigrants manufactured clothing, shoes, hats, etc. Items sold in stores all over the country, possibly in the Sears catalog. It wasn't a retail street then.
Today Washington Ave is largely a restaurant street, with the occasional niche retail merchant. Besides bars/restaurants the other common "retail" use is hair salons.
Another problem are the many gaps in continuity.
Get the form right — including being able to look into ground floor spaces. Don't fret about the users.
— Steve Patterson