For over six years now I've had a decent view of the 17th Street facade of the massive Butler Brothers warehouse also bounded by Locust, Olive, & 18th (map).
So when a neighbor posted a link to  '718,000sf Butler Brothers Building Set for Residential Redevelopment' on our condo association listserve I was very interested to hear the development plans. Is residential development imminent? Nope.  The owner has simply listed the property with a different commercial brokerage.
This was the peak of the condo boom downtown, developers were grabbing buildings as fast as they could. The sheer size of Butler Brothers, however, presented overwhelming challenges to potential developers. The Ely Walker building, on the opposite side of my building, was just being finished as lofts by Orchard Development Group of Chicago.  Ely Walker was very large, but not as big:
Originally known as the Ely and Walker Dry Goods Company Building, this seven story building is second only to the Butler Building in overall size. (National Register Nomination — Washington Avenue Historic District)
Part of the marketing in 2007/2008 was also trying to sell the building to a developer like Orchard or Pyramid, but the bottom was falling out. In April 2008 Pyramid went under and in September the stock market crashed. Since then buildings have been rehabbed, now as smaller rental units. Orchard couldn't sell all the condos in the Ely Walker so their marketing switched to rental.
The market has recovered somewhat, though not for new high-end condos. The existing resale market is coming back, prices have mostly recovered.   That said, nobody is building new for sale loft condos.  The market is good for rental units but with a building this size I'm not sure about such a large number of units coming on the market. Figuring out the right price range(s) and construction/permanent financing will be tricky, seller financing is an option though. Tax credits will be part of the picture:
The property is listed in the National Register of Historic Places and is presently approved for State and Federal Historic Tax Credits to support redevelopment costs.
Well, not exactly. The building isn't listed individually on the national register, but it's a contributing structure in the Washington Avenue Historic District. As a contributing building any redevelopment might qualify for historic tax credits. Like prior years, some in Jefferson City want to cap historic preservation and low-invome housing tax credits.
Let's go for a walk around the building…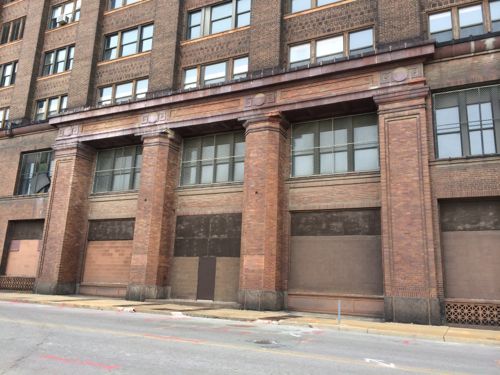 As an immediate neighbor I hope the building sells quickly and gets redeveloped, but I'm not going to hold my breath in the meantime. If the proposed streetcar on Olive moves forward I think interest in this property will as well. There's plenty of room for structured parking inside, but the streetcar would connect it to the CBD, Midtown and CWE.
— Steve Patterson