Downtown St. Louis can be reached via car from all directions. None is particularly a nice drive, although I do like entering from Illinois via the Eads Bridge. When the New Mississippi River Bridgeopens in 2014 motorists on I-70 from Illinois and west of St. Louis will have a new option, an exit that takes them to Cass Ave and directly onto a new alignment of Tucker Blvd into downtown.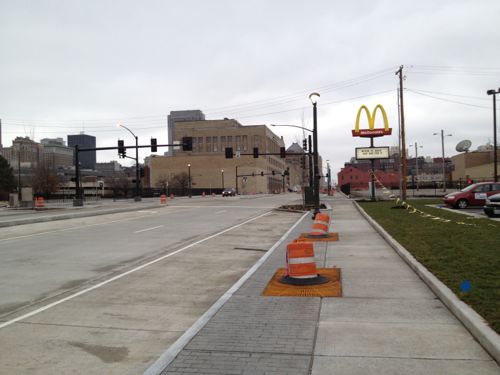 A short stretch of the rebuilt Tucker recently opened to traffic. I've had a chance to drive it twice and walk part of the sidewalk. It's too early to do a review of the design of the road & sidewalks but so far it looks good with only a few problems I'll note in a later post once more is opened.
The good is the road is only two lanes in each direction. Rather than have three per direction with the outside used for parking or buses, the third lane isn't a through lane. Space is provided for buses and parking but the road doesn't feel excessively wide the way say Jefferson does between Olive & Natural Bridge. New new road, median, planted areas at the edges and street trees will make a great first impression. But when motorists look past the new sidewalks they will likely be disappointed by what they see. Great buildings like the one above, instead of housing retail storefronts, has the city's Mosquito & Rat control division, aka Vector Control. Welcome to St. Louis!
Most of the land is vacant — empty or surface parking lots as you near Washington Ave. Right now the only planning that's been done is via Paul McKee's Northside Regenerationplan:
The Missouri and Illinois Departments of Transportation are working together to construct a new bridge that spans the Mississippi River just north of downtown St. Louis. The new bridge has the potential to become both a catalyst for the revitalization of the area in the immediate vicinity of the "landing" and a new entrance into downtown St. Louis. For the catalytic effects of the new bridge to be fully realized, transportation improvements are needed in the area around the bridge ramps beyond what MoDOT has planned for their 2011 construction. McEagle has been working with the City of St. Louis and MoDOT to create a more efficient flow of traffic into the downtown and NorthSide areas from the new bridge. Along with the new N. Tucker Boulevard alignment planned to begin construction in spring 2010, McEagle has proposed two additional off ramps to the MRB interchange and a new Mullanphy Street realignment and bridge over the MRB Landing (MRB Extension). This Extension will provide a direct connection for west-bound traffic to the NorthSide as well as provide an alternative route for eastbound traffic to access the MRB interchange. The development yields for this area have been projected as follows:

Office/Business space: 860,000 sq ft
Retail: 173,000 sq ft
Residential: 2019 units
Hotel: 120 rooms
Regardless of your views on Paul McKee's project you have to give him credit for recognizing the opportunity to develop new housing, offices and retail.
I'm still concerned the new buildings will lack connections to adjacent sidewalks. St. Louis now has a "Complete Streets" policy, but no requirement for adjacent properties to connect. The ADA requires minimal connection but a building can be built and occupied without it, leaving enforcement up to those who complain. If we take McKee, and his consultants, at their word the area will be pedestrian-friendly. My preference, of course, would be a requirement by ordinance. Former 5th Ward Alderman April Ford-Griffin never would initiate such a requirement and I don't expect any of the three woman running to fill the vacant seat to do so either. The election is December 20th. Good or bad, McKee has the Tucker & Cass area under control. But what about south of Biddle St? The 1986 McDonald's was just razed and replaced. The new one does have an ADA access route from one of the four streets bordering the property, but it's still a prototype  best suited for a suburban/rural highway exit.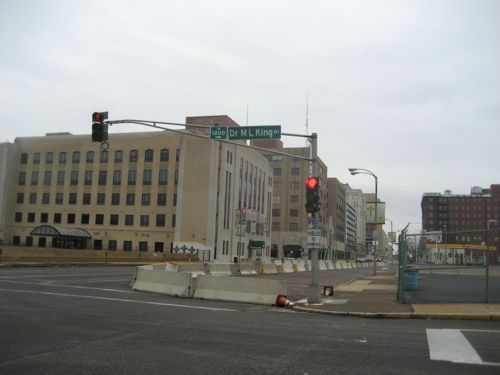 The west side of Tucker needs urban buildings up to the sidewalk, like they are on the east side.
This is one of those opportunities that doesn't come along often. Will we step up and take the necessary actions to ensure Tucker develops right over the next 20-30 years?
– Steve Patterson