When Culinaria opened it was a relief having a decent-sized grocery store downtown. A problem was trying to get to the entrance at 9th & Olive. The public sidewalk along 9th was so full it was basically single file for many years.
I got the number of tables reduced — and pushed back out of the way. But the four original "dish drainer" style bike racks remained.
Nearly a year later those old racks that place bikes so they narrow the sidewalk remained in place, getting used at times. On May 10th of this year I asked the manager, Adam, when the old racks would be removed. He wasn't sure how to get them removed — they were anchored pretty well. So that day I emailed photos to people at Streets Dept and Great Rivers Greenway (did the new rack) to inquire, copying Adam so he'd be in the loop.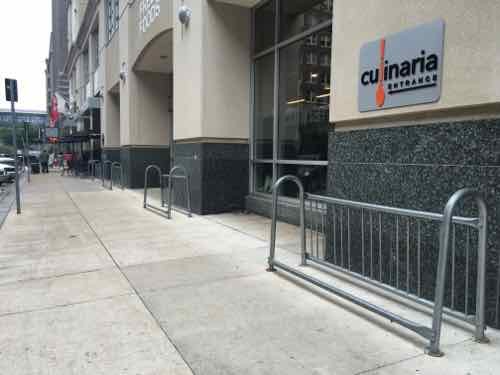 It's all about how we share the public right-of-way (PROW).
— Steve Patterson