Very soon the Saint Louis University School of Law will move into a renovated building downtown, near the courts.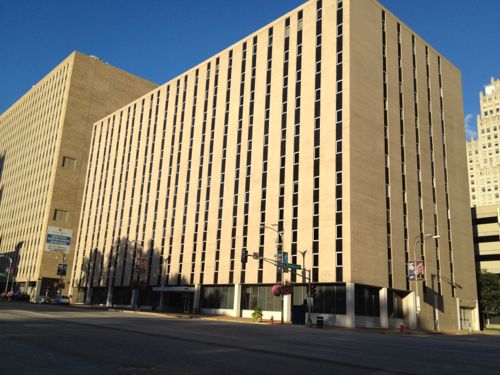 But this post isn't about the alterations to the building, this post is meant to help faculty, staff & students understand how to use the MetroBus system.
The distance between the current law school on the main SLU campus and the new building is 2.3 miles via Lindell/Olive & Tucker. Driving time is 9 minutes end to end, but no parking is available at the ends, so walking time needs to be added.
Taking the #10 (Gravois Lindell) MetroBus is 16 minutes, per Google Maps, including walking time.  Time on the bus is 11 minutes plus 5 for walking, so taking the bus is competitive with driving in this example.
Those going from the main campus can catch the #10 in one of two places: on Lindell east of Spring or Lindell east of Grand. You'll exit the bus on just after it turns on 14th St., next to the Ford Building.
In the opposite direction you'll walk two blocks west along Pine to the stop shown above. You can exit at Grand to Spring for the main campus.
Frequency is every 30 minutes, 40 minutes after 11pm. The #10 line is the bus I use most often, the 30 minute frequency isn't a problem when you know the schedule. I personally don't use the printed schedule, I just check the times on the Google Maps iPhone app (or online) as needed.
Here are some other things to remember:
Make sure you look for your bus, if you are busy reading the bus driver may not realize you want to board and pass you.
Transfers offer a good value. Say you board the bus at 10:30am and pay $3 ($2 fare + $1 transfer), you'll get a transfer good until 1pm!
Bus drivers can't offer change, so having $1 bills is a good idea, a monthly pass is $72. Hopefully a new SLU administration will join the Metro campus programs like St. Louis Community College, Washington University, and University of Missouri-St. Louis (UMSL).
Let others get off the bus before boarding, when you exit use the back door rather than the front door. This reduces delays.
You'll need to pull the cord to signal you want to stop at the next bus stop.
Don't be afraid to sit toward the back, the front seats must be given up for elderly & disabled passengers.
Anyone else have any positive advice?
— Steve Patterson