For years I had many reasons for not using public transit. In hindsight some were valid, but most weren't. Last week's poll asked why readers don't use public transit, the results are interesting: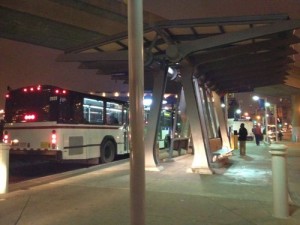 Q: Top 3 reasons why you don't ride public transit as your primary mode?
takes too long 93 [22.85%]
Doesn't go where I go 72 [17.69%]
I have a car 69 [16.95%]
I ride public transit! 50 [12.29%]
Confusing routes/schedules 21 [5.16%]
Other: 21 [5.16%]
It's unsafe 20 [4.91%]
Having to walk to/from 19 [4.67%]
I'm white 17 [4.18%]
Other riders 11 [2.7%]
I'm not poor 7 [1.72%]
I have young children 7 [1.72%]
The top answer "takes too long" has a few variables: start and destination locations, and expectations. If you already have a car it's hard to justify using transit except in special circumstances – like going to the airport or a Cardinals game. Depending upon locations, route, distance, etc public transit can be as fast as driving. Factoring in parking, I can get from my downtown loft to the Chase Park Plaza in about the same amount of time. For other destinations driving a car wins handily in terms of time.
Ok, it takes me 45 minutes to get to Target on Hampton, I make the time productive. At first it seemed like forever, especially when I still had a car. Over the last 20+  months  I've gotten used to the time — I've readjusted my expectations.
Here are the 21 "other" answers provided by readers:
too expensive
Bring a rail line S-SW and more access with mean more riders.
I really enjoy riding a bike, too!
I don't live in the city.
other
Stop is in difficultLocation to get to – Grand Blvd. stop, terrible location!
I bicycle
Infrequent schedules
Walking is cheaper.
doesn't run often enough
More Expensive than Driving
transit IS my primary mode.
Vehicles/Trains feel dirty
Poor frequency, operating hours
Must transport tools & equipment to work sites
I have a bike
Trains/buses run too infrequently
More expensive than driving due to opportunity cost of a longer commute.
Lack of Frequency (especially at night)
Having a car saves me time during the day going from one meeting to the next.
I ride a bicycle and supplement with metrolink when needed.
I should've included biking as a reason for not using transit — a very good reason! If you're already paying for a car, it becomes very hard to justify letting it sit to use transit. In a region where car ownership isn't outrageously expensive, as say, NYC, then transit use is it becomes transportation for the poor and/or environmentalists.
Until the equation changes (high fuel cost, for example) public transit use won't increases. If we see fuel costing north of $4/gallon then you'll hear about more people trying transit.
— Steve Patterson