In the poll last week readers made it clear they want to see St. Louis County use Prop A funds to expand MetroLink. I'll show the results later in this post but I want to share information on BRT informational meetings this week, starting today: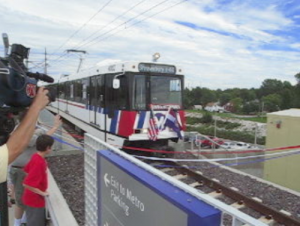 Public meetings will be held in September 2013 to gather public input on two final, recommended projects to be advanced into competition for Federal funding. The same meeting will be repeated at three locations along the proposed routes.

September 10, 2013
11a-1pm, open house with presentation at noon
City of St. Louis City Hall, 2nd floor
1200 Market Street, St. Louis, MO 63103

September 11, 2013
5:30-7:30 p.m., open house with presentation at 6:30 p.m.
The Heights (City of Richmond Heights Community Center)
8001 Dale Avenue, Richmond Heights, MO 63117

September 12, 2013
5:30-7:30 p.m., open house with presentation at 6:30 p.m.
St. Louis Community College – Florissant Valley Campus, Student Services Center, Multipurpose Room
3400 Pershall Road, Ferguson, MO 63135
Here's a summary:
The study is now in the alternatives analysis phase. Four alternatives have been identified:

Halls-Ferry Riverview BRT
West Florissant-Natural Bridge BRT
Page Avenue BRT
I-64 Highway BRT

These four potential BRT routes are options for improving transit connections between St. Louis County and the City of St. Louis. One of the study's main goals is to address the need for quick, direct travel from neighborhoods north and south of Downtown St. Louis to employers located in north and west St. Louis County. The "Central Corridor" stretching from Downtown St. Louis to the Central West End and Clayton still holds the region's largest concentration of jobs, but the largest job growth is occurring in places like Chesterfield, Earth City, and St. Charles – areas easily accessible by highway, but currently not by public transit. The type of BRT service currently being studied is intended to expand access and improve travel time to those job opportunities – of particular importance to reverse commuters traveling to major job centers in suburban areas – while also providing a premium transit alternative for car commuters. The Rapid Transit Connector Study will identify candidates for Metro's first two BRT routes; Metro will continue to work with the region to identify future BRT routes. Other transit options identified in Moving Transit Forward, such as expansions of the MetroLink System, are intended to meet other long-term goals such as strengthening neighborhoods and encouraging transit-oriented development.
More information on the four routes at MovingTransitForward.org.
The top three answers in the poll were for more light rail (MetroLink), not Bus Rapid Transit:
Q: How should St. Louis County invest Prop A funds to expand public transit? (Pick 3)
MetroLink (light rail) extension into South County from Shrewsbury station 41 [21.93%]
MetroLink (light rail) extension from Clayton to Westport Plaza 37 [19.79%]
MetroLink (light rail) extension into North County from North Hanley or airport 33 [17.65%]
Apply to operations to increase frequency of current routes 24 [12.83%]
Bus Rapid Transit (BRT) to West County 13 [6.95%]
Bus Rapid Transit (BRT) to South County 11 [5.88%]
Other: 11 [5.88%]
Add new regular bus routes 10 [5.35%]
Bus Rapid Transit (BRT) to North County 6 [3.21%]
Unsure/No Answer 1 [0.53%]
I was delighted to see more funding to operations place 4th, rather than lower. Here are the 11 other answers:
Better accomodation for cyclists
MetroLink South City
Expand metrolink into South city. Add double-buses on busiest lines.
BRT to North and South City
focus on service, not equpt – demand-responsive service & grid route structure
North South Metrolink Roue
Metrolink expansion to Chesterfield
metrolink from shrews to webster and kirkwood
Both North and South County Extensions
How is north/south Mettolink not an option. This poll is meaningless.
LRt to N County and S County through downtown.
For some reason 7 of these think County voters will let their tax money be spent within the city limits of St. Louis. The north & south light rail planning that took place a number of years ago had the extensions ending in park & ride lots on Goodfellow & Broadway, respectively. They'd never cross out of the city limits. Like Shrewsbury, they'd be built to expand further in the future.
Shrewsbury has been open for 7 years and it doesn't look like we'll be expanding south from there anytime soon. Just as well, where would it go?
— Steve Patterson