Recently I posted about the lack of transit oriented development (TOD) around the Wellston & Rock Road MetroLink light rail stations (see Let's Build Around Light Rail).  Both stations have been open for 19 years now.
For both I made my observations from each station and seeing a lack of connection in various directions. Last week I found myself 9/10ths of a mile from the Wellston station so I got to experience the problems area residents face in reaching that particular station. Before I get into the problems I want to explain why I was nearly a mile from that station.
Walkability expert Dan Burden was in St. Louis for a few days last week. Thursday morning a group met at the MET Center near the Wellston station and did a "walking audit" of problems we observed.
The next afternoon a group met at the University City Library on Delmar at Kingsland (map) to discuss safe routes to schools.  I'd arrived by MetroBus (#97).  After the presentation we walking north to the new Pershing school. Well, it was very hot so everyone else drove and I made my way the 8/10th of a mile to the school.
It was over 100 degrees and when we finished here the sessions were over, we were all on our own. A bus route was close but the sidewalk to reach it was blocked by construction at the school. I decided to "walk" to the Wellston Station in my power chair.  I'm not sure when I left University City and entered Wellston.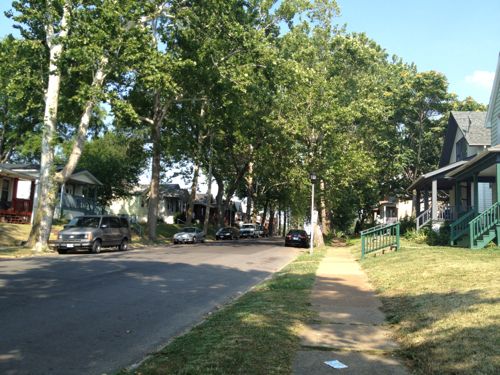 The housing stock in Wellston appears older and not as nice even when new as the housing in nearby University City. Though modest, I didn't feel unsafe in what many would consider a "bad area."  I encountered no one, probably because of the excessive heat.  The  sidewalks were all complete and passable until I got out of the residential area and into the industrial area near the station. Sixty-sixth street only had fragments of sidewalks, I ended up in the roadway.
The last part of my trip would take me through Robert L. Powell Park.
I'd seen the park on map before and got up to it back in April to see the sign facing Metro's largely empty parking lot.
The park is appropriately named because it's a disgrace.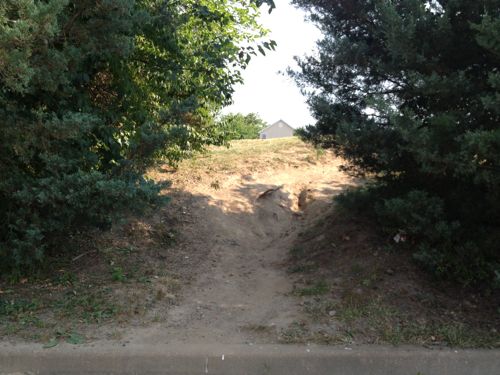 Once I reached the station I didn't catch the train, instead I got on the #94 (Page) MetroBus since that'd drop me off only a block from my loft. It's clear to me that in the last two decades nobody has done anything to make it easier for Wellston residents to get to transit. What can/should be done?
Replace sidewalks along 66th Street.
Pave path through Powell Park, plant shade trees along path and have a few benches and a water fountain. Will require a ramp to navigate the grade change.
Rename the park something besides a disgraced former mayor.
Develop the parking lot, provide a nice sidewalk to reach the light rail platforms and bus stops.
I'm sure many of you can list numerous reasons why my list can't/shouldn't happen. I'm not interested. I'm interested in thoughts on how the type of connection that should have been built 19 years ago  can finally get done.
– Steve Patterson