The following is an October 18th press release from our transit agency Metro:
Extra MetroLink Service for World Series Games 1 and 2

The excitement is building in Cardinal Nation on the eve of Game 1 of the World Series in St. Louis, and Metro Transit is ready to help Cards fans and visitors avoid downtown traffic congestion on game nights.

Metro will operate extra Eastbound and Westbound trains after the Wednesday and Thursday night games to help the crowds get home, and Metro staff will be at the Stadium MetroLink Station and other nearby stations to monitor the crowds and assist with customer boarding.
Great, but no mention of MetroBus service at all. Â Maybe bus service isn't that significant relative to light rail?
From the bottom of Metro's press releases:
Metro is the operator of the Metro public transportation system for the St. Louis region, which includes the 87 vehicle, 46-mile MetroLink light rail system; 365 MetroBus vehicle fleet that operates on 75 MetroBus routes; and Metro Call-A-Ride, a paratransit fleet of 120 vans.
The fact is buses move many more people in the region each and every day than light rail. The exception might be game days. What about the person in north city or south county that wants to attend a game with no nearby access to light rail but one of the 75 regular MetroBus routes? Sorry, no extra bus service. Most likely there isn't a need — no masses of people crowding bus stops wearing red.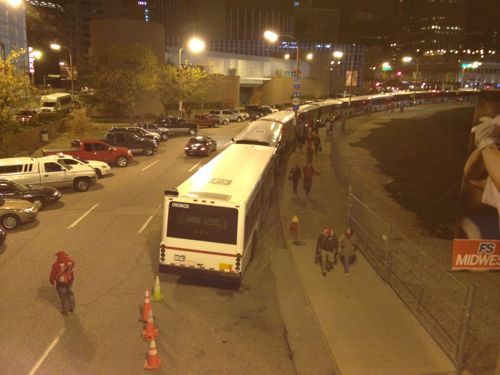 Except in St. Clair County across the river. In addition to MetroLink light rail service in St. Clair County the transit district operates the RedBird Express — $5 per adult round trip:
TO THE GAME –

Buses leave from: 134 St. Clair Square, Fairview Heights, Il, 62208, near the Water Tower. First bus leaves 2 1/2 hours prior to game time with service every 5 – 10 minutes.

Fares are round trip only. Cash fares only. No passes, tickets, or transfers accepted on Special Service. Exact fares please.

Last bus leaves 40 minutes prior to game times.

All Buses are wheelchair lift equipped and unload/load outside Gate 4 (Left Field) which is on the corner of 7th & Clark.

HOME FROM THE GAME –

The buses will be lined up at the corner of 7th and Clark at the pick-up/drop-off point. When leaving the stadium, board the front bus and once the bus has a seated load it will return to Fairview Heights.

In the event of an early exit (rain delay, extra innings, heat related, etc…), passengers always have the option to exit the stadium and board the bus to return whenever they see fit. Once there are enough passengers to warrant a return trip, a bus will return. Always go to the front bus unless instructed otherwise by one of our representatives.

MOST IMPORTANT: The last bus will return from the stadium 25 minutes after the official end of the game.
Are baseball fans in Illinois more willing to ride buses or they do so because the service is offered and promoted? Would such service from Jamestown, Chesterfield and South County malls see similar use if offered?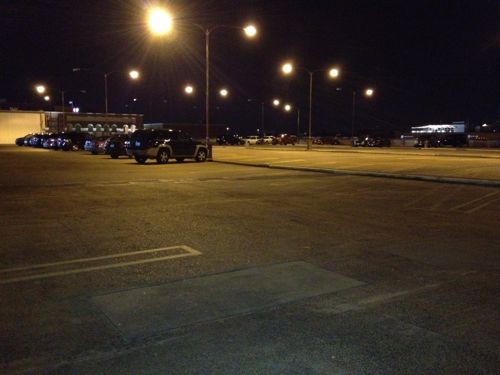 I'd like to see many more baseball fans using transit to reach the games. The fares though won't cover the costs but that is true of all transit. Of course the cost of auto exhaust, accidents, etc is a cost we all share in. I'd like to see one or both stadium garages  removed so that land can be used for people not cars.
– Steve Patterson