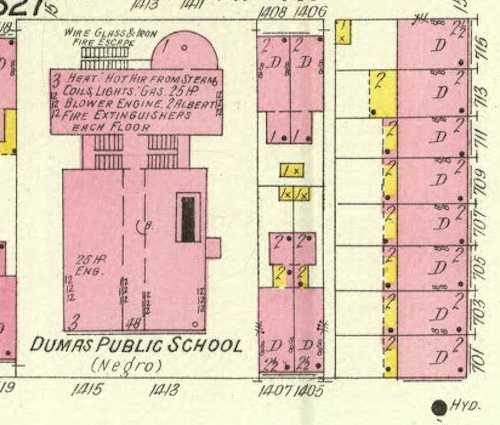 In researching the Dumas Public School, razed long ago, I came across an interesting tidbit about the school's principal, Arthur D. Langston. The following appeared in the New York Times on December 8, 1907:
URGES NEGROES TO BE POLITE
Colored School Principsal Advises His Race — Corrects Statement.

ST. LOUIS, Dec. 7. – Prof. Arthur D. Langston, Principal of the Dumas Public School of St. Louis, in addressing the Missouri Negro Republican League delegates here a few days ago, was erroneously reported as having said that  "no negro should occupy a seat while a white woman stands, and dirty negros should not be allowed on the street cars at all."

In his address Prof. Langston said: "Colored people and whites associate more intimately in the street cars than in other places; therefore, it becomes a matter of great importance that we conduct ourselves properly in "every way on street cars. Â Let the negro make the white man ashamed by never occupying a seat while a lady is standing."
Wow, huge difference between the two! Mr. Langston (1855-1908) died the following April at the age of 52, he is buried in Nashville TN.
– Steve Patterson