A couple of weeks ago I laid out a suggested route for a modern streetcar route from downtown to the Loop (Feasibility Of A Streetcar From Downtown To The Loop). I suggested using Olive, Vandeventer and Delmar. I've got more on the subject.
Extension of Loop Trolley, Not A New Start:
Alex Ihnen posted on NextSTL that Olive/Lindell was the "only feasible route" (see: Olive/Lindell Streetcar or Bust: Why a New St. Louis Line Must Build On Success) and that an all Olive route wasn't a good option.  I'm not sure who suggested a route on Olive West of Vandeventer,but I agree with Ihnen that staying on Olive isn't wise but I disagree that Lindell is the only possibility.
Ihnen admits with his Lindell route the "problem remaining is the potential to connect to the Loop Trolley." That's a deal breaker of a problem!  This streetcar line needs to be sold to the Feds as an extension of the Loop Trolley, not a new stand-alone system. Maintenance and storage buildings are costly so getting the maximum use of the Loop facility, rather than building a second, makes financial sense and increases the odds of getting the Feds to improve funding.
The Loop Trolley will initially use restored vintage cars, which are cheap to buy, but very costly to operate. Fortunately, the Loop Trolley is being designed to handle modern streetcars as well. Replacing the vintage cars with modern cars would come as part of an expansion. This is inevitable because the operating costs of the Loop Trolley won't be sustainable.
So while we might talk about a downtown streetcar heading out west, the reality is the Loop Trolley would be extended east to downtown, something I've advocated since the Loop Trolley has been discussed.  The most feasible  way to get a streetcar line in midtown and downtown is building upon the Loop Trolley, not starting over from scratch.
Given that reality let me describe the route from the Loop to downtown. Extend the line east on Delmar from DeBaliviere to Vandeventer, south to Olive, east on Olive to the Central Business District.
The one alteration I've been thinking about is due to the fact the Olive/Lindell intersection was recently redone is to use McPherson for a block. When south on Vandeventer instead of turning east on olive the line could continue south two blocks then head east on McPherson in front of the Moolah Theater. These are diagramed later in this post.
Line Placement:
Conventional wisdom says run the streetcars through existing areas where people are now. Well, yes and no.  One lesson we can learn from the 10+ years of the Portland streetcar is you want to do both. The line needs to serve busy points but by taking an under-developed path between those points you'll see it fill up over time provided you've also put the right zoning in place.
If you're at Euclid & Laclede you've got MetroLink a short walk to the south. Having a streetcar a short walk to the north at Euclid & Lindell would be great for the lucky few in between but the rest of the city should also benefit from such an investment in new infrastructure. Having the line run along Delmar on the north end of the Central West End it would serve residents on both sides of Delmar. It'd be a short walk from Left Bank Books at Euclid & McPherson to catch the streetcar at Delmar. Of course you can catch the #97 (Delmar) bus there now — every 30 minutes.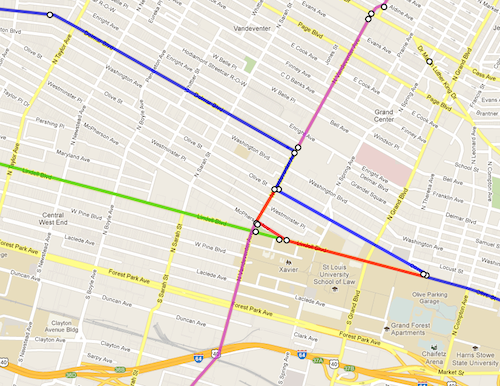 North-South Line:
On many sites people have said a north-south route is needed. I fully agree, an eastbound line from the Loop to downtown will give points to make connections to a future north-south route(s). Again, using the one maintenance facility saves considerable money and makes future lines more sellable to the Feds.
It's my opinion that Vandeventer would serve as an excellent north-south route with excellent development potential. A streetcar line on Vandeventer would take pressure off the #70 Grand bus route. A north-south route further east such as Jefferson would also be good and would personally benefit me more, but I think Vandeventer is a better first north-south line. No the north it could stop at Natural Bridge, a good future east-west streetcar route as well as the preferred route for a light rail line to north county. Heading south on Vandeventer the line could turn south on Kingshighway.
Modern Streetcar vs Bus:
Some of you fail to see the difference between a modern streetcar and a bus, other than the obvious track and wire.  The modern streetcar used in cities like Portland & Seattle is not like a railcar where you add on cars as need (Wikipedia). These have three sections, a middle and matching ends — no adding on. They are 66 feet in length, 6 foot longer than an articulated  bus and 26 feet longer  than a typical bus. Seating capacity is only 30 but standing capacity is an additional 127, most passengers stand since they're going a short distance. Our 40 foot buses have a seating capacity of about 40 and standing isn't feasible because you're either in the way or you'll fall over due to the bumpy ride.  An articulated bus has a capacity of roughly 60+.  For comparison our MetroLink light rail vehicles are 90 feet long and  "a capacity of 72 seated and 106 standing passengers." (Wikipedia)
Boarding a bus each passenger gets on one at a time, after others have gotten off the bus. It's a slow process. With the modern streetcar riders pay their fare at the fireboxes on-board the streetcar.
The inflexible rail and wire are very important. These permanent items give developers the confidence to invest in high density development. The high density development supplies riders for the streetcar. Bus lines are incredibly efficient means from getting from point A to point B but a bus line, no matter how frequent, can't generate the same level of development along a route. To help justify the capital expense of a streetcar the goodwill of developers along the length of the route cannot be left to chance. Government, in exchange for the investment in the infrastructure, should demand the density of development necessary to make it worthwhile. This last part is what wasn't done 20 years ago around our MetroLink light rail stations.
Property owners with several blocks of a streetcar will benefit financially from the new transit infrastructure as their property value increases. Measures also need to be taken to ensure low-income persons aren't priced out of high transit areas. This could be a freeze on property taxes for existing low-income homeowners to rent control for some rental units.  The goal would be to add more middle and higher income residents without displacing those on the lower end.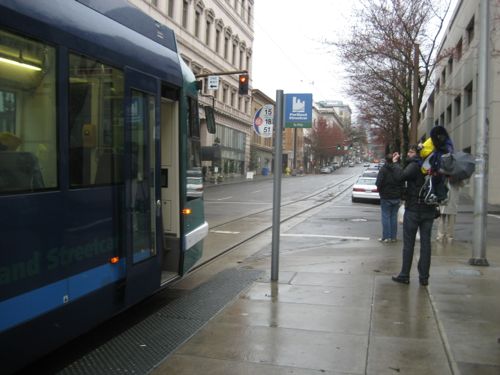 Conclusion:
The bus is a fine mode for inner city public transit, it's how I most often leave downtown.  While it does it's transit function well it doesn't spur new development. The streetcar also does a great job at local transit but it's strength is in development and creating new transit users. In making infrastructure decisions we cannot continue to put all our eggs into the CWE basket, we must spread it around.
– Steve Patterson