In March 2013 I posted about a newly built grocery store near downtown Springfield IL, see Springfield IL & Niemann Foods Don't Understand Pedestrian-Friendly Design. By May 2013 they'd added a pedestrian route, a non-compliant afterthought, see County Market Near Downtown Springfield IL Retrofits A Pedestrian Route.
My March post prompted a post, and a followup post, from the State Journal-Register in Springfield:
Also in response to Sunday's column, Ward 7 Ald. Joe McMenamin came to the newspaper office Monday morning to show us plans for the Hy-Vee grocery store coming to MacArthur Boulevard, replacing the blighted old Kmart building.
I am no expert, but it looks to me like Hy-Vee is doing it right. McMenamin used orange marker to show the new sidewalks on both north and south ends of the store and pedestrian access to the store, including two ways for pedestrians to get to the entrance from across busy MacArthur. He used green marker to show the landscaping. There's a lot.

This is not because of pressure from the city, however. Hy-Vee is doing this on its own. On its own, the company is going above and beyond what Springfield city ordinances require. If only every company was as classy. But they aren't, which is why the city needs more stringent requirements. (Critique of Springfield's image touches nerve)
Reading this in April 2013 got me curious about a future store opening in an old Kmart, an important part of retrofitting suburbia is the reuse of existing vacant retail buildings.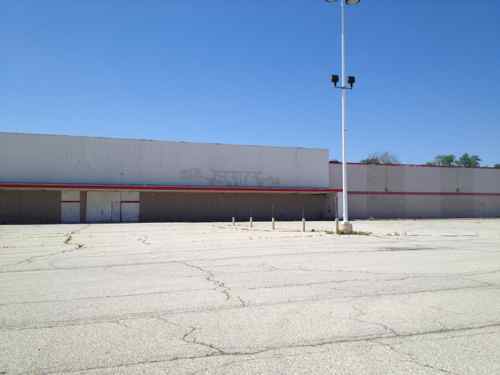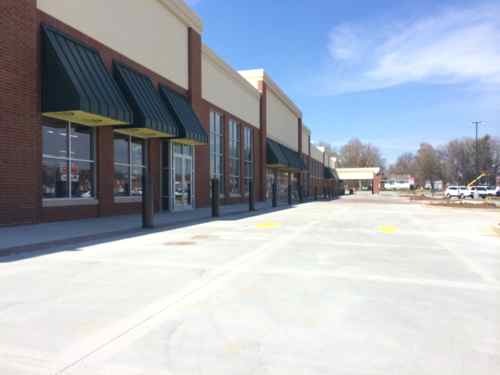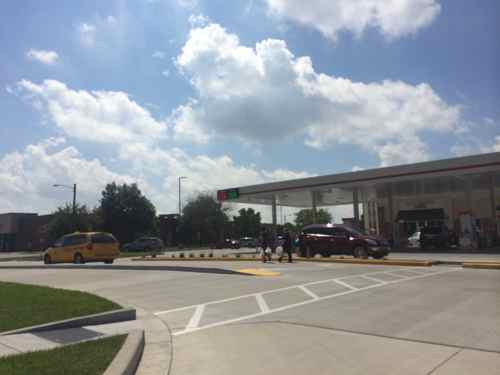 The Hy-Vee faces MacArthur Blvd, a busy Springfield arterial road, yet none of the two sidewalk connections are direct. Three bus lines run on MacArthur in front of the store.
Still, the St. Louis region does no better. The Target store on South Hampton is similar, accessible pedestrian access is to the north & south, not directly from Hampton. The build pedestrian-friendly cites the buildings should connect to the public sidewalk network in such a way the general public (read: alb;e-bodied) will use the paved accessible route because it's the most direct path to the entrance.
Here's a good example: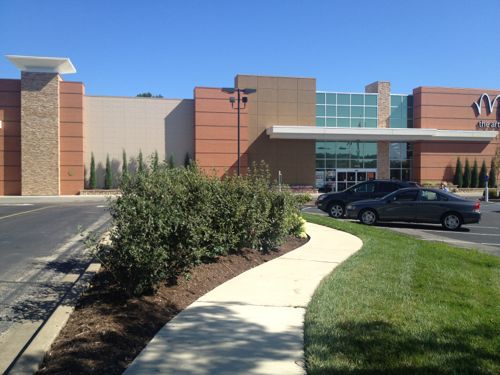 No pedestrian is going to walk in the entry driveway here, or hunt on the sides for a way in. For good design, developments should have accessible pedestrian routes conneting directly as possible to all adjacent public sidewalks. The Hy-Vee in Springfield, like our Target on Hampton, has three adjacent streets. Both connect to just two of the three streets, ignoring the primary street.   Pedestrian fail.
Two buildings out nest MacArthur Blvd were razed, the entire site (paving, curbs, etc) are all brand new. This could've been so much better.
— Steve Patterson