Yesterday I posted about the horrible pedestrian environment along the #12 MetroBus route in St. Clair County. I took that bus on Wednesday the 16th. That night, Fox2 ran a related story (Disabled man hit 3 times on Lemay Ferry, due to lack of sidewalks):
Tony Berding says he's been hit 3 times by vehicles on Lemay Ferry.  Berding is disabled, and lives in a senior apartment complex in the 3600 block Lemay Ferry Road in South St. Louis County.  He uses a motorized wheelchair to travel to a nearby Quick Trip and Kmart.

Berding was struck last Thursday while traveling on a narrow shoulder along northbound Lemay Ferry.
That evening a reader messaged me about the story, but I didn't have time to watch. The next morning I got a message from Berding's sister, so I watched — horrified watching her brother use the narrow shoulder to get to the store. We messaged via Facebook, then text, and finally on the phone. This is about real people at risk because of how we have chosen to build our physical environment.
Lemay Ferry in South St. Louis County is far more urban than the area I traveled through in St. Clair County, I've taken the #73 MetroBus numerous times, most recently the morning of August 25, 2015:
What I hadn't done is roll along the part of Lemay Ferry mention in the Fox2 story. After looking at it on Google Street View I saw just how physically impossible the West side of Lemay Ferry was, the East side isn't great — but it's passable. I decided I'd have to drive to photograph. Before doing so I did some research.
Fox2 said St. Louis County indicated they couldn't afford to buy land for the right-of-way to build a sidewalk on the East side. Two problems here: Lemay Ferry is also known as MO-267 — it's maintained by MoDOT, not the county.  Secondly, the right-of-way is 80 feet wide — more than enough width for four travel lanes, a center turn lane, and sidewalks on each side! More on this later, let's take a look at the problem.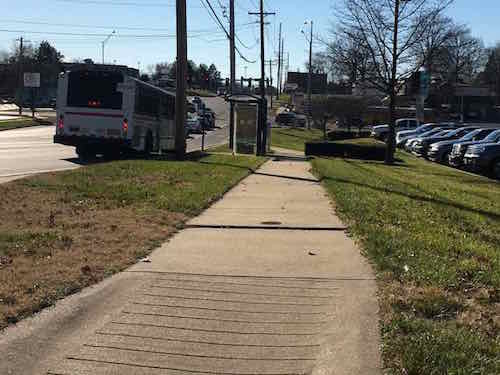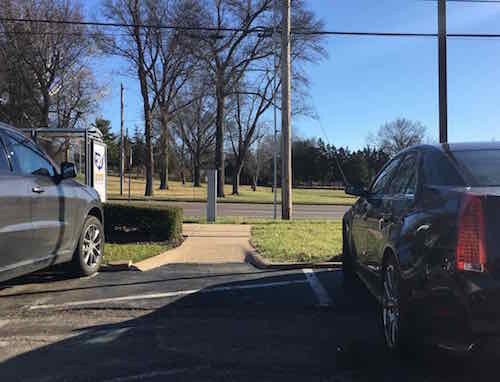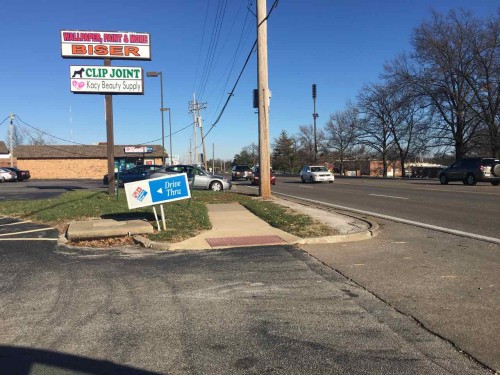 So why not just move? When you're disabled and low-income housing options are very limited.  It has been 25 years since the Americans with Disabilities Act became law — St. Louis County & the Missouri Dept of Transportation need to prioritize this.
Below are two examples of dividing the existing 80′ right-of-way so still have four drives lanes & a center turn lane.
My guess is decades ago Lemay Ferry was a 2-lane road that got widened after people & businesses began moving to south county from south city. It went from a rural 2-lane to a 4-lane with center turn without any consideration for pedestrians. The 80′ right-of-way might have been in anticipation on more lanes of traffic — the land was subdivided before I-55 was even a dream.But MO-267, aka Lemay Ferry, is used by pedestrians. People use transit. Not all residents own cars.
It hasn't kept up, but it needs to change.    Before someone gets killed!
— Steve Patterson