I had 20 years to eat at Noah's Ark restaurant in St. Charles before it closed in 2000, but I never did.  With a lot of land and a highly visible location developers were interested. New Urbanist developer Greg Whittaker, of New Town at St. Charles, bought the site. He hired Duany Platter-Zyberk (DPZ) to plan a New Urbanist project to be called Plaza at Noah's Ark.
December 2006:
The multi-use development is planned on 26.8 acres occupied by the former Noah's Ark restaurant and motel and a small subdivision. The area was developed in the 1960s, but the restaurant closed in 2000 and the hotel two years later.

Plans include an 18-story high-rise residential complex, an outdoor ice rink, a movie theater, a 150-room upscale hotel, restaurants and a parking garage that could include 1,827 spaces. (Post-Dispatch)
March 2007:
The 26.8-acre high-density development is planned for the site of the former Noah's Ark restaurant and motel at the southeast corner of the Interstate 70 and South Fifth Street interchange. Plans call for an 18-story residential building with a minimum of 518 units costing about $250,000 each, retail shops, a movie theater, a 10- to 14-story hotel, an outdoor ice rink and a multilevel, vertical parking garage. (Post-Dispatch)
November 2011:
The site plan allows for 17 buildings, as many as 12 of which would be one or two stories tall. None would be taller than six stories.

An earlier plan called for 27 buildings ranging from one to 18 stories and set aside 374,200 square feet for commercial space and 759,600 for residential units.

Under the current plan, commercial square footage will range from 561,575 to 1,147,275. Residential square footage can be from 505,000 to 602,000, with an average unit size of 971 square feet.

Construction of the second building is expected to begin sometime in 2012, Buralli said. The 300,000-square-foot building would include the site's 196 residential units. Cullinan doesn't plan to sell any of the residential units for now. (Post-Dispatch)
April 2013:
Peoria, Ill.-based Cullinan bought the property in January 2007 from Whittaker Homes, which had acquired the site for a project then called the Plaza at Noah's Ark. Cullinan renamed it and reached a new development agreement with the city, but the recession delayed construction. The City Council in January 2010 approved $40 million in bonds to help get it going, and in July 2011 approved a revised plan calling for more commercial square footage, less residential space and fewer buildings than Whittaker proposed. (Post-Dispatch)
A few years ago I saw it after the first building was completed, earlier this month I returned when we were in the area.  My reaction is best described as mixed.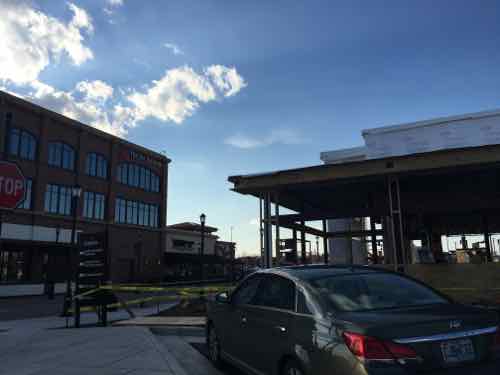 As I said, I have mixed feelings on this project. As a 25+ year resident of the City of St. Louis, their slogan "Indulge in Urban Living" is laughable to me. But I know I'm not their target market. To most residents of St. Charles County this is more urbanity than they ever thought they'd see on their side of the Missouri River.
A decade or more ago this site would've been developed as a big box with an even bigger parking lot. Smaller buildings would've dotted the perimeter. Visitors would've been expected to arrive via car and to drive to reach other buildings on the site.  From my brief observations, it appears the planners have made sure pedestrians can reach every building via a sidewalk.
While I'm not going to give up my downtown loft to live here, it's an improvement over old-school development patterns.
I'd love to visit in my wheelchair so I could experience it as a pedestrian. It appears I can catch the St. Charles Area Transit's I-70 Commuter bus at North Hanley, which I'll do in the coming month or two. A few hours exploring the site, touring a model apartment, having lunch will give me a better feel of the project.
— Steve Patterson
b
b
b