Another  downtown hotel is about to reopen:
After being shuttered since 2011, the original Hotel Lennox – once known as St. Louis' tallest hotel – will re-open Sept. 2, the same day that the hotel originally opened in 1929, as The Courtyard by Marriott St. Louis Downtown/Convention Center Hotel. The newly revitalized hotel will be one of the most unique and historically significant Courtyard-branded hotels in the country. The hotel has undergone a significant renovation, with an investment of over $22M into the property during a 16-month restoration. (KMOX)
Los Angeles-based Maritz Wolff & Co. will own and manage the property. It bought the Renaissance Suites this year for $3.2 million from the bondholders who owned it. Lewis Wolff, co-founder and chairman of Maritz, Wolff & Co., and Phillip "Flip" Martiz, its co-founder and president, sold the Ritz-Carlton in Clayton for $56 million in December 2012 to Bruce Karsh and his Clayton St. Louis Property LLC.

The development and management team from Maritz Wolff is led by Patrick Lowery and Jeffrey Barone. (St. Louis Business Journal)
Thankfully the renovations included the new sidewalks you can see above, replacing the failed stamped concrete fake brick sidewalk that was installed about 15 years ago, when it reopened as the Renaissance Suites. The sidewalk is totally new, but they did one thing exactly as it had been: the location of the curb ramp across the auto driveway to the East.
You might say they were just matching the ramp on the East side of the driveway. Two wrongs don't make a right.
When new concrete is poured it should be done right, now continue an early 1990s mistake. If new work makes incremental improvements then eventually downtown will be more pedestrian-friendly.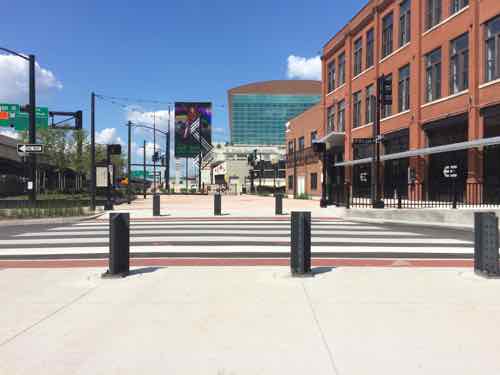 In high pedestrian areas such as between the hotel and convention center this reduces the chances someone will trip & fall on a curb. As this is part of the public right-of-way (PROW), not private property, the city should've ensured this was done differently.
— Steve Patterson