After Papa John's Founder & CEO John Schnatter commented on the Affordable Care Act during the 2012 presidential campaign I stopped patronizing the downtown location — then located just 4 blocks East. My taste buds, waistline, and wallet were grateful.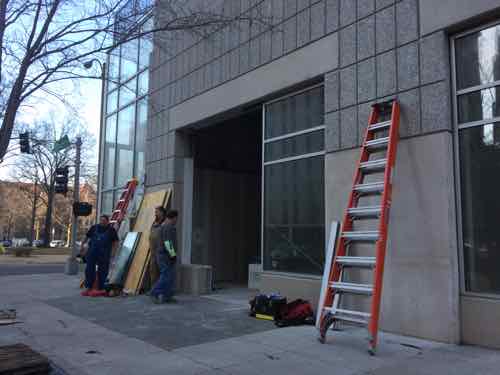 It will be nice seeing a business in these storefronts facing Tucker, the spots facing Pine are occupied. More space remains available facing Tucker & Olive.
Renovation work at the garage where Papa John's had been located (see Parking Garage Undergoing Time-Consuming Multi-Million Dollar Restoration; Businesses Closed, Jobs Lost) has slowed to be almost nonexistent. Yesterday the security guard told me what I already suspected — there was far more damage than originally thought. The owner isn't sure how much more they want to put into it but a couple of guys are still around working — but nothing like the crew when the work first started.
How long can the owner keep a garage that's producing zero income?
— Steve Patterson