A few years ago a few blocks of South Grand underwent a road diet:
In 2009, South Grand Boulevard was selected as one of four Great Streets Initiative pilot projects in the St. Louis region. Since 2006, East-West Gateway Council of Governments (EWG) has been helping communities in the St. Louis region expand the way they think about streets. Local leaders and citizens are encouraged to think beyond the curb to understand how transportation decisions affect the total built environment.

EWG recognizes the importance of streets as community resources and through the St. Louis Great Streets Initiative intends to make them more than just a conduit for cars. Great Streets in St. Louis will emphasize all modes of travel, especially walking. Great Streets will address and reconsider the auto- centric approach that has dominated design over the years in order to transform these streets into great community resources.

Considering how street design choices affect the pedestrian realm and abutting land uses is central to the St. Louis Great Streets Initiative. Connecting communities requires more than just installing a sidewalk along the edge of a busy street. It requires the careful and intentional creation of an environment that suits walking, bicycling and transit. It requires taming traffic in a way that still allows for mobility, but at speeds that are safe and undamaging. Streets traverse through communities and should do so in a way that enhances the community. (PDF — large file)
Now that the project has been completed I wanted to know how readers felt about it.
Here are the results from the Sunday Poll:
Q: Now that it has been in place a few years, what is your opinion of the South Grand 'Great Streets' road diet:
Highly favorable 18 [45%]
Favorable 12 [30%]
Neutral 4 [10%]
Tie 3 [7.5%]

Unfavorable
Highly unfavorable

Unsure/No Answer 0 [0%]
As you can see, 75% have a positive view with only 15% a negative. I voted for "favorable", some design decisions kept me from voting "highly favorable." The pedestrian path still seems too narrow, for example.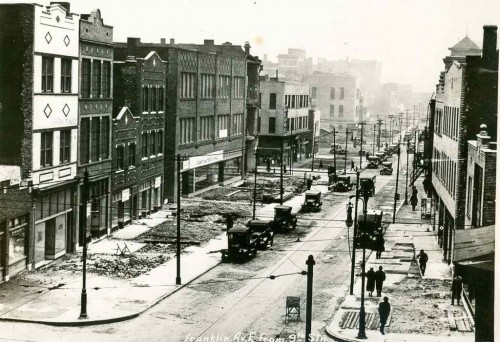 We need more of these road diets to counter the massive road widening projects of the early 20th century! We have nowhere near the population that existed in those days, the road widening that took place is part of the reason for our population decline. We must remake our streets on the scale of a century ago — making them suitable for all modes (pedestrian, cyclist, motorist).
— Steve Patterson