Based on comments on Monday's post (Walking To The "Flagship" Dierbergs & Schnucks Locations In Des Peres, MO) many of you think the auto-centric suburbs will never be walkable. Well, you're wrong. They'll likely never  be ideal urban settings but they can be retrofitted to enable people to function without having to drive. This is important because we need to walk more:
There is a growing recognition that Americans must increase physical activity, including walking or bicycling, if we are to nudge the needle on ballooning health care costs, reducing obesity and overweight, cardiovascular and other chronic illnesses linked to a lack of exercise. Over the last decade, a growing number of communities have gotten the message, and begun to retrofit their more dangerous roadways to be safer for people on foot, on bicycles and in cars.

Still, most Americans continue to live in places where walking is risky business for their health and safety, where roads are designed solely to move speeding traffic and where pedestrians are viewed as an obstacle.

This has left us with a dilemma: Public health officials encourage Americans of all ages to walk and bike more to stem the costly and deadly obesity epidemic – yet many of our streets are simply not safe. Americans get to pick their poison: less exercise and poor health, or walking on roads where more than 47,000 people have died in the last ten years. (Dangerous by Design 2011)
Des Peres and other St. Louis suburbs have had sidewalks along major roads for years, yet few pedestrians.  The lack of connection from the public sidewalk to the businesses set back behind parking lots has been a major hurdle. When these older commercial buildings are retrofitted or replaced we have the opportunity to make incremental improvements to improve the walkability.  For example, the location of the old Schnucks grocery in Des Peres.
Schnucks was there for over 40 years but, like the new location, it didn't have any pedestrian route to the store. Now the building has a new facade and two new retailers and a pedestrian access route.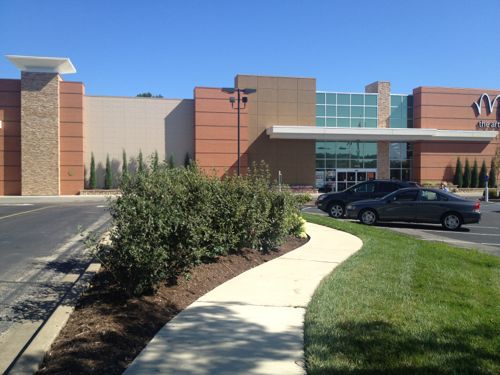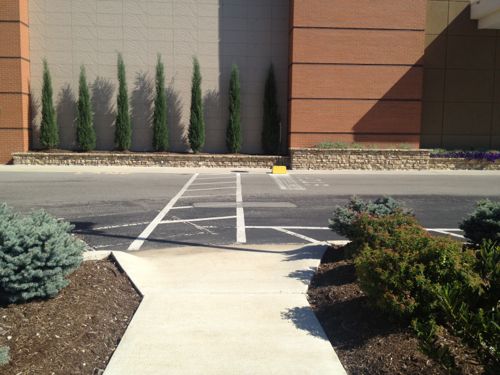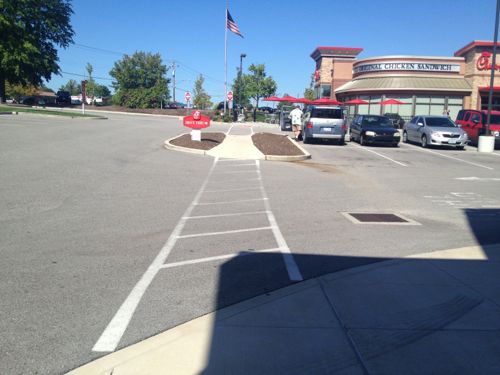 This is not great urbanism, nor is it my idea of walkable. But, I was able to easily get to the businesses without feeling like I might get hit by a careless motorist. It's incrementally more walkable than it's been for the over four decades. Walkability doesn't happen overnight. Des Peres will not become a great walkable community by 2014, but it might by 2032.
I've posted the following video before but it's worth watching over and over.  Ellen Dunham-Jones shows us ways to retrofit the suburban sprawl few like but that many call home. Well worth 20 minutes of your time.
httpv://www.youtube.com/watch?v=yPkalOtT6i4
Continuing with a laissez-faire development strategy will, however, guarantee Des Peres and similar suburbs won't be much different in 20 years. In 20 years the marketplace will pass up suburbs that require an automobile to function.  Within the next two decades those communities where various modes of mobility are embraced will be the desirable "location, location, location" places. This includes walking, biking transit and yes, driving.
— Steve Patterson