Friday's are usually political post, often new bills being introduced at the Board of Aldermen that day. Those will resume when the 2019-20 session begins next week. Today's post is a look at a wealthy St. Louis family, what's left of the street & park named after them.
Mullanphy Street was named either for John Mullanphy or his only son, Bryan Mullanphy.
John Mullanphy (1758-August 29, 1833):
Mullanphy was the first millionaire in St. Louis. Born in Ireland, he enlisted the famous Irish Brigade during the French Revoltion. After emigrating to the United States, he opened a trading store in Frankfort, Kentucky. Here he met Charles Gratiot, brother-in-law of Auguste Chouteau (the founder of St. Louis.) Gratiot persuaded Mullanphy to come to St. Louis & he opened another trading store in that city. During the War of 1812, Mullanphy bought a large supply of cotton at low prices. After the war, he shipped cotton to England where it was sold at record high prices. He profited a million dollars which he invested in St. Louis real estate. This became the foundation of the Mullanphy fortune, which was later inherited by his 7 daughters. Much of his later life was spent in philanthropic work. (Find A Grave)
Bryan Mullanphy (September 16, 1809-June 15, 1851)
Philanthropist. He was the only son of John Mullanphy, St. Louis' earliest millionaire. Educated in Europe, he was disinherited by his father because his expressions of generosity were considered to be "reckless habits," and the great Mullanphy fortune was divided among his seven sisters. They later re-divided their interitance to include him. In 1840, he was appointed a Judge of the Circuit Court and in 1847 was elected Mayor of St. Louis. Never married, Mullanphy's will was in litigation for 9 years before being declared void because it was written while he was under the influence of alcohol. Rather than allowing such evidence to be admitted to the court and spoil his public image, his sisters relinquished their claims to his estate. Mullanphy founded the Travelers Aid Society, St. Vincent De Paul Society, Mullanphy Hospital, Mullanphy Park and Playground, Mullanphy School, Mullanphy Immigrant Home and countless other bequests to the poor and unfortunate who came to St. Louis in his era. (Find A Grave)
My guess is the street was named after the father as it was platted prior to 1841. At the southwest corner of Mullanphy Street & 10th Street was Mullanphy Playground, later Mullanphy Park. This, I think, was named after the son who had served as mayor and died at only 41.
In the 1907 Civic League's Plan for St. Louis they talk about the Mullanphy Playground after the Carr Square District, from page 45:
An opportunity exists for the establishment of a civic center, adequate for the present needs of this district, in conjunction with the municipal playground at Tenth and Mullanphy Streets. The property extending along the Mullanphy Street front of the playground from Tenth to Eleventh Streets, and now under lease by the municipality, should be purchased by the city. It should also purchase the small lot on Tenth Street, now under lease, and the houses on Eleventh Street, now owned by the Mullanphy Board. In these houses there should be established a gymnasium and public bathhouse, a branch reading room of the Public Library and a hall for public meetings. The playground could then be enlarged by dirt tilling and by the removal of the present temporary library and bath buildings to the permanent quarters.  
The October 1909 Sanborn Fire Insurance map shows the playground hadn't yet been expanded.
The houses on 11th remain, block 602 is divided into multiple parcels. Looking at historic aerials going back to 1955 it appears a large building replaced the residential buildings. The gymnasium? Whatever it was, by 1968 the building was gone. The old aerials showed the steps up to the elevated level field of the park.
I recall walking, biking, driving past this park in the early 90s when I lived nearby in Old North St. Louis. As 10th was a one-way street to exit I-70 to reach downtown, many people drove past this park for decades. People still drive past it, but on the other side.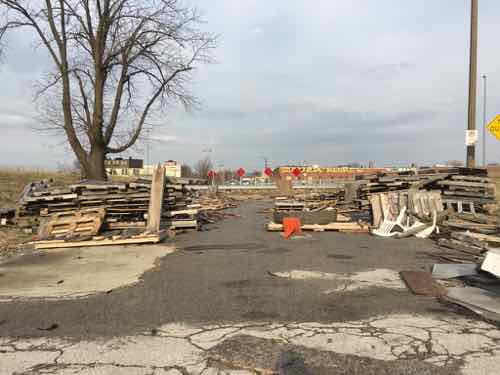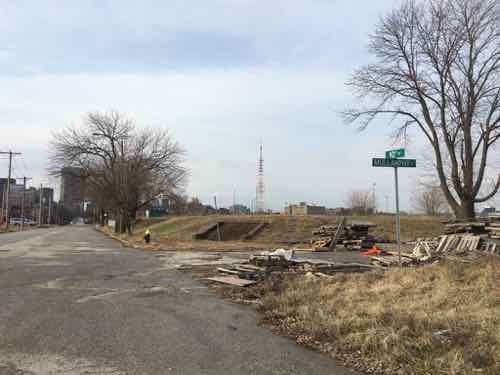 This once-important neighborhood park is now owned by one of Paul McKee's Northside entities. The surrounding neighborhood hasn't existed for decades and the west side if now a massive on/off ramp.
Goodbye Mullanphy Park.
— Steve Patterson