The eastern edge of my new neighborhood, Columbus Square, has been known as "The Bottle District" since 2004.
In 2004, longtime neighborhood business McGuire Moving and Storage Company, announced plans to redevelop the district as an entertainment destination. Noted architect Daniel Libeskind was hired to design the district. The Ghazi Company of Charlotte, North Carolina is the co-developer.

A groundbreaking ceremony was held on September 27, 2005, with plans for the first phase to open in 2007. The plans called for a Rawlings Sports museum, a Grand Prix Speedways kart-racing center, a boutique bowling alley, 250 residential units, and several restaurants. The first phase of the development was anticipated to cost $290 million, to be funded in part by $51.3 million in tax increment financing.

But that effort stalled. In late 2011, the St. Louis Board of Aldermen approved the transfer of the unused $51.3 million to a new developer, NorthSide Regeneration LLC. The deal would see the previous investment group, including developers Larry Chapman and Clayco, sell the site to NorthSide for an undisclosed amount that documents with the city suggest would be $3 million; all three were to work to find tenants and build on the site. Construction on a $190 million office and residential project was to begin in summer 2012. (Wikipedia)
This area is basically a wedge between I-44 (formerly I-70), Cole, 7th, Cass. The only thing that's happened was the giant Vess soda bottle got a new paint job in 2016.
From August:
Six years after developer Paul McKee, through Northside Regeneration, LLC, acquired the Bottle District just north of the Dome at America's Center in downtown St. Louis, no development has occurred. (Post-Dispatch)
Recently I've seen some activity, but nothing to get excited about.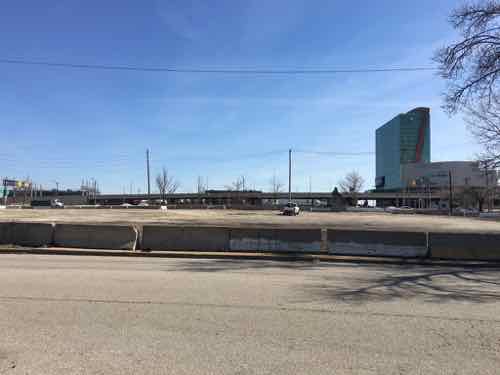 Workers with large equipment have moved some dirt, big trucks have delivered gravel, which has been spread out on some of the blocks. Looks to me like they're prepping for use as surface parking. With XFL pro football starting at the dome in 11 months there will be people to pay to park here.
The location seems good, right next door to the Dome, very close to Laclede's Landing and the renovated Arch grounds. Yet, surfacing parking appears to be the highest & best use.
— Steve Patterson