When you are dating someone who tells you he has never been to the top of the Arch, you make plans to take him to the top. Easy enough, except when you are disabled.  Saarinen's Gateway Arch was conceived long before the American's with Disabilities Act of 1990 was signed into law by George H.W. Bush, back in a time when many physically disabled people were institutionalized.
The National Park Service website alerts visitors to the fact the Arch isn't wheelchair accessible.    Yet much of the design of the Arch does permit wheelchair use, although the slopes exceed those allowed by the ADA. Other areas have steps but railings are pretty good. It'd be impossible to make the full Arch experience ADA-compliant.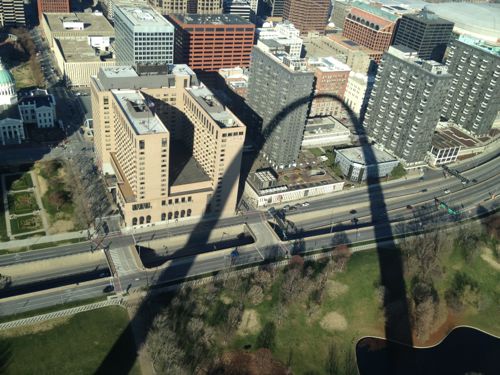 Thanks to Jefferson National Expansion Memorial Superintendent Tom Bradley and his staff for answering my questions beforehand. Depending on someone's ability to navigate steps and walk on a curved floor they can reach the top.
— Steve Patterson