When an urban building is razed, replaced by grass, it'a no surprise that nearby residents will soon walk their dogs there — that's just common sense. Now some residents, adjacent to the vacant Cupples 7 site, aren't happy walking their dogs on grass — they want a large fenced dog park where their dog can play off-leash. They've cited SLU's Ellen Clark Sculpture/Dog Park as the model to emulate — brick posts to support the fencing, sculpture inside.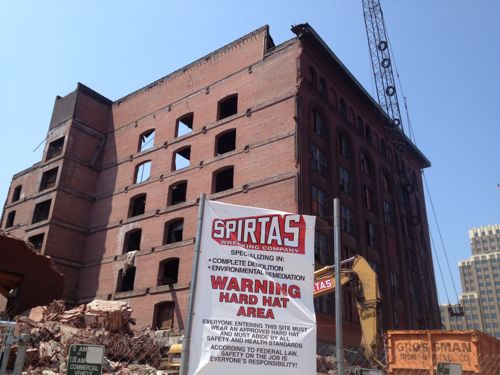 Everyone seems in agreement a new building should go up on this site within 10 years — one area developer is working to make it happen. Thus, any Cupples dog/sculpture park would be temporary.
Downtown's Lucas Park dog run, opened 5 years ago, is about 3,600 sq ft — with roughly 260 lineal feet of fencing — the project cost $125,000.  A lot of money but it's a permanent improvement in public park space.
While not an apples-to-apples comparison, if we take the total cost of the Lucas Park dog run and divide by the lineal feet and square footage we get $480.77/ln ft and $34.72/sq ft, respectively. Multiply these by the Cupples 7's 720.24 lineal feet and 31,233 sq ft and we get total costs of $346,269.78 and $1,084,409.70, respectively. This is just back of the napkin calculations — we'd need to have serious estimates based on a specific design. I do think the final cost would be between these amounts.
Seems too much to spend for a decade of use by maybe 20-50 people. The question is: how much, if anything, should be spend on temporary improvements?
Here's what I would do:
Keep the center open for kickball, frisbee, etc.
Add 3-5 park benches around the perimeter.
Add doggie bag dispensers and trash cans.
Create a planter at the far corner — 11th & Spruce — to improve the appearance to those exiting I-64. Use drought-tolerant native plants/grasses to create a low-maintenance display.
Maximum budget of $10,000 — with no more than half from public funds (community district, ward and/or Treasurer). The balance from private sources.
Put all efforts into getting a new building on this site, connecting Busch Stadium & Ballpark Village to Civic Center (transit), Scottrade Center, and Union Station along Spruce & Clark. Make the Cupples District a place. Find a spot downtown  — East of Tucker — where a permanent dog park can be built.
— Steve Patterson