I love outdoor seating, see Lunch Al Fresco from last month, but I also think public sidewalks should remain passable. Achieving both requires effort to create an ideal balance. When the downtown grocery store Culinaria first opened in August 2009 there was a good balance, but over time the walkability was sacrificed in favor of twice as many tables & chairs. Take a look: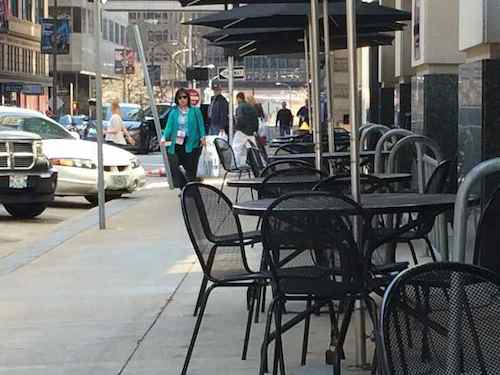 I was glad to see fewer tables, but I knew they could be arranged better. Also, the remaining tables were the larger round tables that seat four, the smaller rectangle tables for two were gone. I think I've convinced them to remove a couple more round tables and bring back four of the rectangular tables. This will give another option for customers while maintaining the same seat count.  The seating area, and sidewalk, are now more generous and comfortable for everyone.
Working on better bike parking now.
— Steve Patterson