Missouri only began issuing the new REAL ID earlier this year, so it's no surprise most still don't have one yet.
Here are the results of the recent non-scientific Sunday Poll:
Do you have a new 'REAL ID'?
No: 19 [65.52%]
Yes: 8 [27.59%]
Unsure: 2 [6.9%]
My husband had to renew his driver's license in July so at that time we got the additional documents together so he could get a REAL ID instead of a regular license. The cost was the same.
My license is up for renewal in February 2020, I'll get a REAL ID at that time. It's been five years since either of us has flown, but we do hope to fly somewhere in 2020. After October 1, 2020 anyone hoping to fly domestically will need either a state-issued REAL ID or a passport.
Here's summary of the legislative history of the REAL ID Act:
The Real ID Act started off as H.R. 418, which passed the House in 2005 and went stagnant. Representative James Sensenbrenner (R) of Wisconsin, the author of the original Real ID Act, then attached it as a rider on a military spending bill, H.R. 1268, the Emergency Supplemental Appropriations Act for Defense, the Global War on Terror, and Tsunami Relief, 2005. The House of Representatives passed that spending bill with the Real ID rider 368–58, and the Senate passed the joint House–Senate conference report on that bill 100–0. President Bush signed it into law on May 11, 2005. (Wikipedia)
Click the link about to see more detail, including links to the votes. Several votes I checked indicated Representative Clay (D) voted "no" each time. Democratic efforts to repeal the law failed.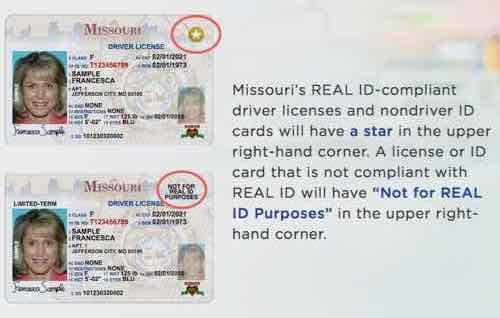 People mentioned costs, especially if their current ID has a few years left before expiring. So say your license or state ID is valid through say May 2022 — the fee will be waived so you can get a REAL ID before October 1, 2020.
What is the cost of obtaining a REAL ID-compliant driver license or nondriver ID card?

Transaction and processing fees for new and renewal applications will be the same as they are currently.

Click here for detailed fee information. You may also apply for an early duplicate license or ID card outside of your regular renewal period (which is six months prior to the expiration of your license or ID card).

Missouri law allows for a one-time waiver of the duplicate transaction fee for persons who have not been issued a REAL ID-compliant license or ID card. License office processing fees, however, will not be waived and are $6 (three-year issuance) or $12 (six-year issuance). Personal information may be changed as part of a duplicate one-time waiver transaction, but if you are applying for a different class of licensure or to add any endorsements or restrictions, the one-time waiver will not apply. (Missouri REAL ID page)
Illinois' REAL ID page is here. If you want to fly, or enter secure federal facilities, then you need a REAL ID before October 1, 2020.
— Steve Patterson