Last week artist renderings were released for a proposed soccer-specific stadium, it'll be built if the local ownership group becomes an MLS expansion team. The MLS recently approved expanding the league from 28 to 30 teams, so it seems increasingly likely we'll get an MLS team & stadium. Images from MLS4THELOU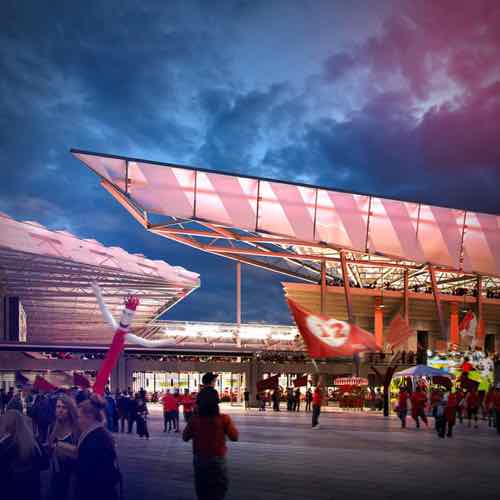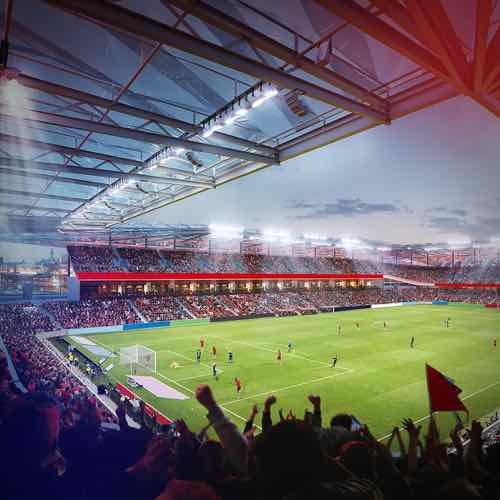 When people see colorful drawings of proposed projects they'll often get drawn into the images, letting down any critical thinking they might've had — they've served their purpose of increasing support and reducing criticism. Absent from the documents was a proposed site plan.
Site plans are never sexy, but they help explain relationships between buildings. Without a site plan it's impossible to fully understand the quality of the design.
I'm very familiar with the area where the proposed stadium would be built. In fact, in February 2016 I posted about it when another ownership group was trying to get a MLS team following the Rams' return to LA:
The site they shouldn't consider is the North riverfront one previously targeted for a significantly larger NFL stadium — we shouldn't tear down buildings when we have vacant land available. We have land, mostly state owned, without any buildings and a target for redevelopment for years already. I'm talking about the 22nd Street Interchange area — an area on the West side of downtown I've written about numerous times over the 11+ years.
The state-owned land is the remnants of what was to be a 1950s West loop around downtown.
The second portion of the Distributor Freeway includes ramps from Interstate 64 & U.S. 40 north to Pine Street at 20th Street. This includes short roadways from the Market Street overpass south to I-64. Plans coinciding with the construction of Truman Parkway included the 22nd Street Parkway. Officially cancelled in October 2003, the four-lane parkway was a version of the late 1950s North South Distributor Freeway running north from U.S. 40 to Dr. Martin Luther King, Jr. Drive. The project included the reconfiguring of the interchange with I-64 & U.S. 40 and required condemnation of land north of Pine Street. Increasing costs associated with acquiring land needed for the parkway ultimately led to its demise. (Source)
The 4th of the above images is the only one that might give us a clue about the site. Let's take a closer look.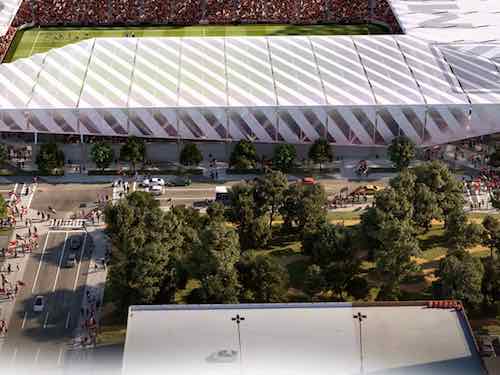 This garage is either an inaccurate representation of the garage attached to the Drury Inn at Union Station, located in the old railway YMCA, or a new garage. Here are a couple of views from 2016 looking at the proposed site.
Here's what I think about the site, both north & south of Market Street:
The stadium & new buildings should take advantage of the existing hole for basement or underground parking.
Market Street between 20th & 21st is a deteriorating bridge, it should be removed. Under it can be filled in with foam so a new road/sidewalks can be built at grade.
Market Street should be redesigned to be friendly to pedestrians. This means narrowing the road (fewer, narrower lanes) and more crossing points. Right now there's a crosswalk at 20th and at Jefferson –this is nearly a half a mile without a crossing.
Hopefully the changes at Union Station, including the upcoming Farris Wheel along 20th Street, will mean easier access under the train shed between the Union Station MetroLink platform on the East side of 18th to the new MLS stadium.
Metro will need to rethink downtown circulation with a revised Union Station, a MLS stadium, and hopefully active surroundings.
Pine & Chestnut have been a one-way couplet for decades. Once the on/off ramps to/from I-64 are gone both streets should be returned to two-way traffic. The revised Soldiers Memorial, however, has only one eastbound lane on Chestnut between 13th-14th.  Chestnut has our only protected bike lane.
I'll probably think of more issues, hopefully the site planning being done now will address at least some of these.
— Steve Patterson