Last week Major League Soccer (MLS) officials indicated they're interested in expanding — adding a team in St. Louis:
Major League Soccer will begin searching for a stadium site in St. Louis and planning for its financing and operations immediately, the league's commissioner told the Post-Dispatch Thursday. (Post-Dispatch)
The site they shouldn't consider is the North riverfront one previously targeted for a significantly larger NFL stadium — we shouldn't tear down buildings when we have vacant land available. We have land, mostly state owned, without any buildings and a target for redevelopment for years already. I'm talking about the 22nd Street Interchange area — an area on the West side of downtown I've written about numerous times over the 11+ years.
Why this location?
Brings needed activity/development to Downtown West
Right size for stadium
Paul McKee was going to redevelop the area, but nothing has happened yet
Most of the land is owned by Missouri or St. Louis
Would not involve relocating any residents or businesses
Doesn't require the demolition of any buildings
Numerous hotels already serve this area
New stadium could anchor West end of the Gateway Mall, events could take place in Aloe Plaza
Market St viaduct/bridge is in poor condition
Great views to the East.
Would give a reason for the #99 Downtown Trolley (Bus) to make a complete circle and serving Downtown West, operating in both directions
What physically needs to happen for this to work?
Gateway Greening's urban farm project would need to be relocated
Street grid restored, Pine/Chestnut 1-way couplet returned to 2-way traffic
Highway on/off ramps need to be reworked:

Entrance onto I-64 in both directions from 22nd & Clark
EB off ramp connects to grid at 21st & Clark instead of 20th & Chestnut
WB off ramp connects to grid at Clark between 21st-22nd
Roundabouts may help along Clark at on/off ramps
What politically needs to happen for this to work?
Elected officials need to abandon the idea of razing the North Riverfront
City/region/state pays for these new roads/sidewalks, on/off ramps
New ownership group pays for the actual stadium
Form-based code to ensure development creates an urban pedestrian-friendly neighborhood over the next 15-20 years
Below is a rough mock-up: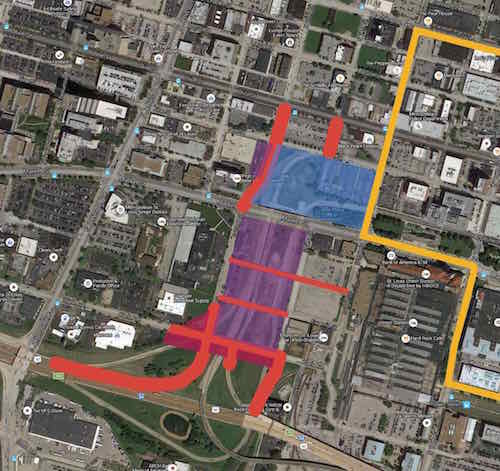 Here are some additional images to show current conditions: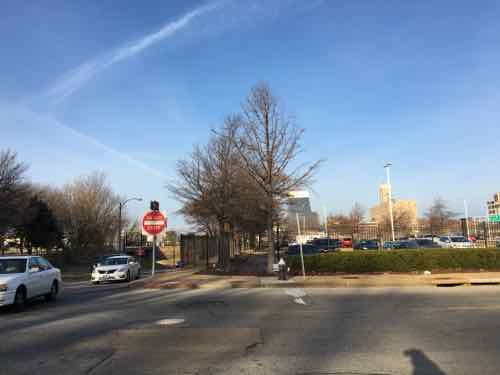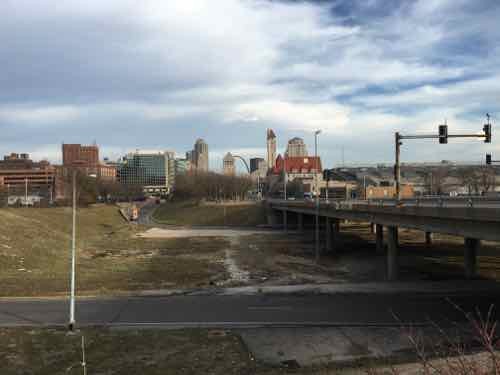 I think this location offers the chance to create a new neighborhood and provide the environment/experience desired by the MLS.
— Steve Patterson