The Rams are retuning to Los Angeles. I think many forgot how we got them here in the first place. Without an NFL team since 1988 we attempted to get an expansion team, but that effort ended in December 1993 when Jacksonville FL got the 2nd expansion team. With a new dome underway political leaders had to find a way to pay for what was going to be a career-ending white elephant.
In January 1995 the Los Angeles Rams were negotiating a relocation to St. Louis, but NFL owners rejected the relocation in March '95. Following legal threats against the NFL, the owners approved the relocation the following month:
St. Louis has has been without an NFL team since 1988, when Cardinal owner Bill Bidwill, tired of being a secondary tenant to the baseball Cardinals in outdated Busch Stadium, moved his team to Phoenix.

St. Louis was considered a lock for an NFL expansion team in 1993, but conflicting ownership groups and financial problems doomed that bid, and Charlotte, N.C., and Jacksonville, Fla., were awarded franchises.

Fans thought New England Patriots owner James Orthwein, a St. Louis native, would move his team to St. Louis in early 1994, but New England businessman Robert Kraft purchased the team at the last minute and kept it in the Boston area.

And St. Louis city and county officials nearly blew their chance at luring the Rams last summer because, until September, they couldn't wrest control of the new stadium lease from a stubborn beer distributor who had the desire, but not the money, to buy an NFL team.

But the city finally cleaned up its act when, after Shaw broke off talks with St. Louis in August, former U.S. Sen. Thomas Eagleton stepped in and convinced aspiring owner Jerry Clinton to turn over his 30% share of the stadium lease for $8 million and the use of a luxury suite for 20 years.

The new stadium, under construction downtown, is scheduled to be completed in late October, meaning Ram home games for the first half of their first season in St. Louis might be played in Busch Stadium.
The Rams weren't here permanently —  they were just on loan. Our desperation to fill the Dome we were building resulted in a too good to pass up deal for the Rams. We borrowed them for 21 seasons and one Super Bowl. Hell, they would've left a decade earlier if Georgia Frontiere wouldn't have waived the right to go year to year after the Dome failed to be in the top tier after the first check in 2005.
Despite his claims otherwise, Kroenke likely planned to move the Rams when he purchased a majority stake. To think otherwise is foolish, he owned sports teams all over the country — it's no big deal to fly to Los Angeles in your private jet. The writing on the wall was obvious to everyone but football nuts and elected officials worried about getting reelected if they didn't show an effort to keep the Rams from doing the inevitable.
So $16+ million public dollars were spent so elected officials could say "see, we tried." In doing so, a large swath of the Near North Riverfront was targeted for demolition. This left property owners uncertain about the future. The William A. Kerr Foundation posted the following on Facebook:
Perhaps enough dust has settled that we can breathe a sigh of relief that our little green building no longer faces immanent demolition. During this past year's great folly to build an NFL worthy stadium in this area, we received many words of support and admiration for what the WAKF has accomplished here and hopes that it would continue to exist. We are very touched and grateful for this outpouring of support and are pleased that many people and organizations will continue to be able to use and enjoy this space. Now we hope that you and the powers that be will put some focused energy and money into revitalizing this whole north riverfront area. Thank you for all your good wishes and support!!
Agreed — we should keep focusing on the North Riverfront — revitalizing — not razing the area.  Unlike in the early 90s, it doesn't appear targeted properties were bought out. Nothing was razed.  But owners are likely leery about investing out of fear of being targeted again.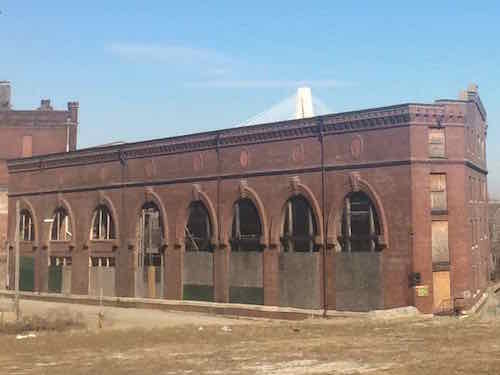 As a region we need to:
Accept we will not have another NFL team.
Be content with existing sports: MLB, NHL, MASL, USL, NCAA.
Consider attracting other sports, but not with a publicly-owned facility.
Build on the investment in planning a stadium by planning how to be life, investment, jobs, etc to the North Riverfront.
Schlafly Beer is looking for a location for a third brewery, perhaps the North Riverfront? Let's put together a plan for the area, find a way to begin updating streets, sidewalks, lighting, etc. Market the hell out of the area to tun vacant properties into occupied buildings.
In the non-scientific Sunday Poll just over 20% said we should continue with the stadium plan — really folks!?!  Thankfully more than 3/4 don't think we should.
Q: Agree or disagree? We should continue the North Riverfront stadium plan
Strongly agree 3 [5.08%]
Agree 5 [8.47%]
Somewhat agree 4 [6.78%]
Neither agree or disagree 1 [1.69%]
Somewhat disagree 1 [1.69%]
Disagree 6 [10.17%]
Strongly disagree 38 [64.41%]
Unsure/No Answer 1 [1.69%]
The first step is to remove the target from the North Riverfront.
— Steve Patterson