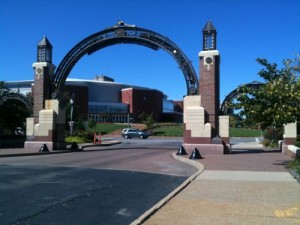 Last year the St. Louis Board of Aldermen reduced penalties for possession of small quantities of marijuana, see Reduction in marijuana penalties approved by St. Louis Board of Aldermen.  This year Colorado began allowing the legal sale of marijuana for recreational use, Washington state will do the same later this year.  New polls show a narrow majority of Americans support the legalization.  The debate comes to St. Louis Monday evening:
ST. LOUIS (AP) – The debate over legalization of marijuana will be the subject of an open forum in St. Louis later this month. Three members of the St. Louis Board of Aldermen are hosting the forum the evening of March 24 at Harris-Stowe State University. The panel discussion will address the disproportionate number of marijuana arrests for African-Americans, the safety of the drug, and whether a marijuana tax would benefit government revenues. (KSDK)
With the legalization of marijuana being such a hot topic these days, Sixth Ward Alderwoman Christine Ingrassia will address various issues surrounding the debate during an open forum at Harris-Stowe State University, Monday, March 24, 2014, 6-8 p.m. in the Emerson Performance Center's Bank of America Theatre. Held in collaboration with Alderman Chris Carter, 27th Ward, and Alderman Shane Cohn of the 25th Ward, the panel discussion will address how marijuana arrests disproportionally affect people of color; whether marijuana is safer than alcohol; how legalization would affect black market drug sales and whether a marijuana tax would benefit declining government revenues. (St. Louis American)
The history of the drug and how it became illegal is interesting, and a reflection of our racial fears:
The political upheaval in Mexico that culminated in the Revolution of 1910 led to a wave of Mexican immigration to states throughout the American Southwest. The prejudices and fears that greeted these peasant immigrants also extended to their traditional means of intoxication: smoking marijuana. Police officers in Texas claimed that marijuana incited violent crimes, aroused a "lust for blood," and gave its users "superhuman strength." Rumors spread that Mexicans were distributing this "killer weed" to unsuspecting American schoolchildren. Sailors and West Indian immigrants brought the practice of smoking marijuana to port cities along the Gulf of Mexico. In New Orleans newspaper articles associated the drug with African-Americans, jazz musicians, prostitutes, and underworld whites. "The Marijuana Menace," as sketched by anti-drug campaigners, was personified by inferior races and social deviants. In 1914 El Paso, Texas, enacted perhaps the first U.S. ordinance banning the sale or possession of marijuana; by 1931 twenty-nine states had outlawed marijuana, usually with little fanfare or debate. Amid the rise of anti-immigrant sentiment fueled by the Great Depression, public officials from the Southwest and from Louisiana petitioned the Treasury Department to outlaw marijuana. Their efforts were aided by a lurid propaganda campaign. "Murder Weed Found Up and Down Coast," one headline warned; "Deadly Marijuana Dope Plant Ready For Harvest That Means Enslavement of California Children." Harry J. Anslinger, the commissioner of the Federal Bureau of Narcotics, at first doubted the seriousness of the problem and the need for federal legislation, but soon he pursued the goal of a nationwide marijuana prohibition with enormous gusto. In public appearances and radio broadcasts Anslinger asserted that the use of this "evil weed" led to killings, sex crimes, and insanity. He wrote sensational magazine articles with titles like "Marijuana: Assassin of Youth." (NPR – Reefer Madness)
The Marihuana Tax Act of 1937 effectively banned marijuana & industrial hemp in the US, even though the drug had been used by doctors until then. In 1969 the US Supreme Court said the act was unconstitutional, see Leary v. United States. In 1970 congress passed the Controlled Substances Act, which listed marijuana among the most dangerous drugs. From the US DEA:
Schedule I Schedule I drugs, substances, or chemicals are defined as drugs with no currently accepted medical use and a high potential for abuse. Schedule I drugs are the most dangerous drugs of all the drug schedules with potentially severe psychological or physical dependence. Some examples of Schedule I drugs are: heroin, lysergic acid diethylamide (LSD), marijuana (cannabis), 3,4-methylenedioxymethamphetamine (ecstasy), methaqualone, and peyote  Schedule II Schedule II drugs, substances, or chemicals are defined as drugs with a high potential for abuse, less abuse potential than Schedule I drugs, with use potentially leading to severe psychological or physical dependence. These drugs are also considered dangerous. Some examples of Schedule II drugs are: cocaine, methamphetamine, methadone, hydromorphone (Dilaudid), meperidine (Demerol), oxycodone (OxyContin), fentanyl, Dexedrine, Adderall, and Ritalin Schedule III Schedule III drugs, substances, or chemicals are defined as drugs with a moderate to low potential for physical and psychological dependence. Schedule III drugs abuse potential is less than Schedule I and Schedule II drugs but more than Schedule IV. Some examples of Schedule III drugs are: Combination products with less than 15 milligrams of hydrocodone per dosage unit (Vicodin), Products containing less than 90 milligrams of codeine per dosage unit (Tylenol with codeine), ketamine, anabolic steroids, testosterone Schedule IV Schedule IV drugs, substances, or chemicals are defined as drugs with a low potential for abuse and low risk of dependence. Some examples of Schedule IV drugs are: Xanax, Soma, Darvon, Darvocet, Valium, Ativan, Talwin, Ambien Schedule V Schedule V drugs, substances, or chemicals are defined as drugs with lower potential for abuse than Schedule IV and consist of preparations containing limited quantities of certain narcotics. Schedule V drugs are generally used for antidiarrheal, antitussive, and analgesic purposes. Some examples of Schedule V drugs are: cough preparations with less than 200 milligrams of codeine or per 100 milliliters (Robitussin AC), Lomotil, Motofen, Lyrica, Parepectolin
Yes, since 1970 marijuana has been listed as more dangerous than cocaine, methamphetamine, etc. For many marijuana does indeed have medical uses:
Pain is the main reason people ask for a prescription, says Barth Wilsey, MD, a pain medicine specialist at the University of California Davis Medical Center. It could be from headaches, a disease like cancer, or a long-term condition, like glaucoma or nerve pain. (webMD)
Some parents say medical marijuana stops severe seizures in their children, the reason a Missouri parent is fighting for medical marijuana here.
Again, the event is Monday 6-8pm at the Emerson Performance Center at Harris Stowe, see map.
— Steve Patterson