Face it, building demolition in the City of St. Louis is a fact of life. Much of the city is in "preservation review" where we know city staff will review applications for demolition permits, denials are heard in public before the Preservation Board. But because we value fiefdoms, some wards are excluded from this review process. With so many vacant buildings, how is the average citizen to know when an owner wants to raze their building just down  the street?
Enter the Demolition Docket:
The St. Louis Demolition Docket is a private news service that reports the demolitions of buildings granted by the City of St. Louis. The Preservation Research Office publishes and compiles the report from public records maintained by the Building Division of the City of St. Louis.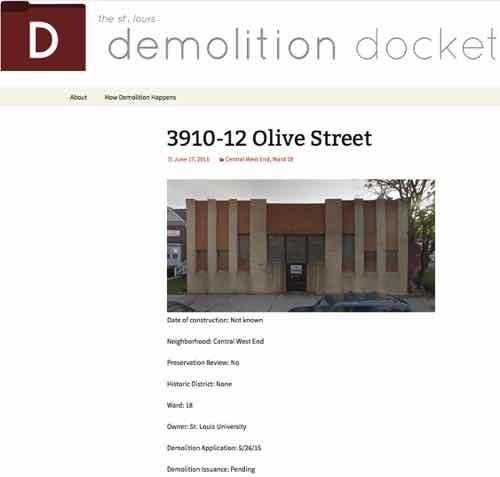 Big thanks to Michael Allen and everyone involved for putting this together. This new site can be followed on RSS, Twitter, & Facebook. I've added it to the links in the sidebar — under both blogroll & research sources.
— Steve Patterson