In June 2011 I posted about the Castle Ballroom on Olive in Midtown. I'd hoped to spark the interest of someone to buy and renovate the building.  Here's how the building looked at the time, followed by how it looks now: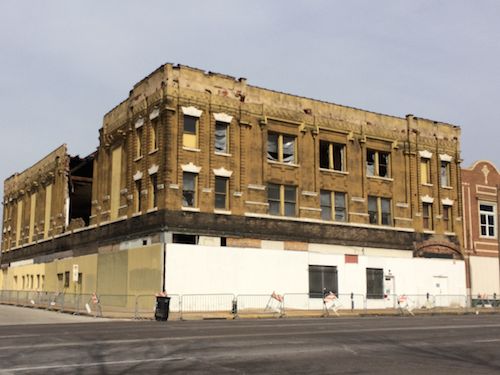 Here's the story:
In November, severe weather caused one of those walls to collapse. Building inspectors have since concluded that the vacant structure at 2839 Olive Street, which is on the National Register of Historic Places and considered one of the city's last remaining buildings with a deep connection to the black community in Midtown St. Louis, is a public safety hazard and must be demolished. (stltoday)
Another important part of history will soon be gone. The front facade could be stabilized, but I don't know who'd pay for that. Plus the bricks have been painted so I'm not sure it's worth saving. If the St. Louis Streetcar moves forward we may see a new building go up on this site. I just hope something like a drive-through restaurant or a one-story retail store like a Dollar General doesn't get built on this site.
— Steve Patterson