South Broadway once had some stately homes, with great views overlooking the Mississippi River. In early 2006 one was gone — razed for a multi-building condo project known as Mississippi Bluffs.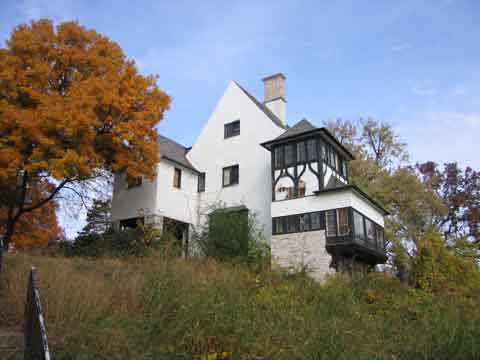 Most of the site for Mississippi Bluffs was to come from the former Good Samaritan Home, the Doering Mansion to the North, was included in the sale of the closed retirement home. The developer wanted just the retirement home site, but the seller wouldn't split them up. Rather than market the Doering Mansion himself, the developer incorporated that land into his plans:
He's building an oasis of 34 high-end condominiums on the Mississippi, each with its own garage and surrounded by 6.2 acres of park, sidewalks for dog walking and jogging, and a large pool. It sits on the city's only mile of terrain above the flood plain, 80 feet above the Mississippi, perfectly positioned for views of the barge industry to the north, vast river to the south and Illinois forest to the east. 

Now, if only he could sell that idea to everyone else.

The land Curran is so fond of was once the site of a retirement home run by the Good Samaritans. The nonprofit organization also owned the adjacent Doering Mansion, which sat unused for 30 years. When the complex went up for sale in 2003, the owners' only stipulation was that the mansion and the home could not be sold separately—no exceptions. Thus both buildings just sat. And sat. (St. Louis Magazine — September 2007)
I wrote about this project quite a bit at the time:
Many questioned the plan and the developer's ability to perform. See map.
But the balance of the site remained vacant for years. Now the plan has changed — not for the better.
Their views of the river are stunning.
It's certainly possible had the Doering Mansion not been razed it would still be vacant and falling apart, but it's also possible it would've been renovated and occupied years ago. A trusted politically-connected developer was allowed to raze one the few remaining mansions in a historic district because his project would fail without doing so. It failed anyway.
If only the Doering Mansion had been offered for sale on its own, only then would we have known if anyone would've been interested in renovating it. I'm just glad I don't get down to this area very much anymore, I'd hate to see these garages on a regular basis.
— Steve Patterson