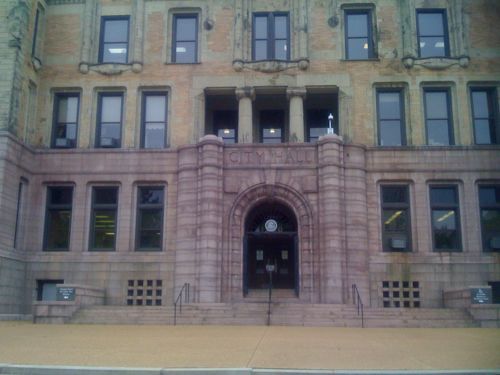 History was made last month — for the first time in the history of St. Louis every alderman is a Democrat.  Yes, we all know the City of St. Louis is a Democrat city — to get elected you need to be a Democrat — at least a DINO. But up until last month at least one member wasn't a Democrat.
In 1949 Democrats took majority control of the Board of Aldermen but Republicans continued to have multiple members, dropping to one in 1977 but up again to two in 1979 when Fred Heitert was sworn in. The number was back to one after Jim Shrewsbury defeated the GOP incumbent in the 16th Ward.  Republican Fred Heitert was an alderman from April 17, 1979 t0 April 19, 2011 — when his successor Larry Arnowitz, a Democrat, was sworn in. But that same day in 2011 an Independent, Scott Ogilvie, was sworn in representing the 24th Ward. Last month Ogilvie was sworn in to a 2nd term — this time as a Democrat.
So last month, on April 21, 2015, became the first time in St. Louis' history that every Alderman was a Democrat. UPDATE 5/19 7:45am: Current seniority list.
How long will this last? If this is broken will it be by a Republican, an Independent, or a Green?
— Steve Patterson