Urban highways & interstates allow drivers to get from point A to point B quicker than had they taken surface streets, but they're also a major divider between the existing neighborhoods they cut through.  In the late 1950s the downtown's 3rd Street Parkway was being extended north, eventually connecting with the new Mark Twain Expressway (aka I-70/I-44) in July 1961.
I live on the west side of the highway, but I can stand in my kitchen and see Broadway & Cass, on the east side of the highway. I know first hand how the highway divides the historic north riverfront from my neighborhood, Columbus Square.
Ideally we'd remove urban interstates and weave our neighborhoods back together, but that's never going to happen. What should happen is when we rebuild crumbling infrastructure we add connections civil engineers in the 1950s never considered at the time the highways were planned.
The distance from Broadway & Cass to Broadway & O'Fallon is only 2/10 of a mile, but the distance required for the last 60 years has been double that — 4/10 of a mile.
The Missouri Department of Transportation supports pedestrian facilities:
MoDOT works with planning partners to create transportation facilities that work for all users because we value bicycle and pedestrian travel. Accommodating for bicyclists or pedestrians may be as simple as providing a well-designed road that all road users share or as complex as a separate-grade structure, such as a bridge. Developing appropriate facility design for nonmotorists depends on a variety of geometric and operational factors that are inter-related, such as available right-of-way, projected traffic counts and adjacent roadway design speeds.
 

We strive to integrate nonmotorized travel into the existing system to provide connections where none exist to promote efficiency and to focus on a primary concern—the safety of those who depend on walking or bicycling to reach their destinations. (MoDOT)
Unfortunately MoDOT failed to accommodate the needs of cyclists and pedestrians in the replacement. This is a huge mistake — it'll be another 60+ years before we get another chance to reconnect these areas.
You might be thinking it would be too difficult to include a pedestrian sidewalk.  The old bridge, removed over the weekend, couldn't have easily been retrofitted. But when building the new bridge entirely from the ground up it is actually pretty easy.
Here's the overview:
Now let's take a look at the old bridge and highway exit ramps.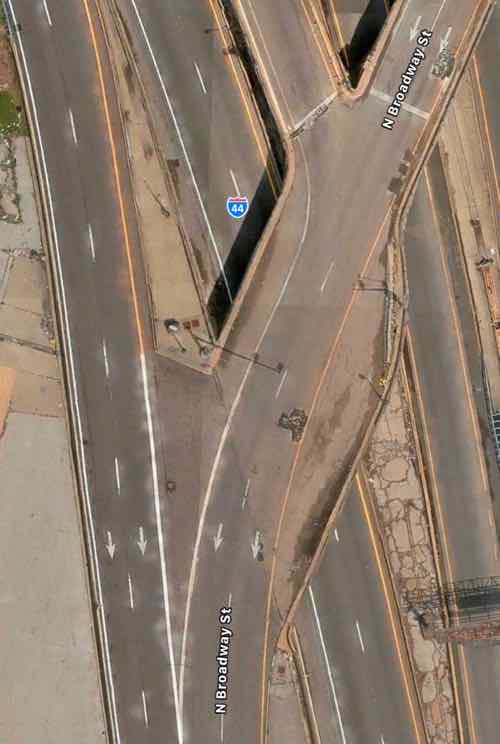 The solution is the one southbound lane of Broadway splits into 3 before Cass — one left, one right, one straight ahead. This means the same width bridge can also accommodate bikes & pedestrians. The traffic exiting the southbound express lane and the highway have plenty of length for drivers to decelerate. Rumble strips (or similar) can be used to communicate to the driver to slow down as they approach Broadway. The 2 highway exit lanes can narrow to one before Broadway. Not sure if signals are necessary or just a flashing red light and notices to yield to pedestrians.
I would like to see Broadway south of Cole to return to two-way traffic in the future, so I'd like the new bridge to accommodate 2-way traffic and pedestrians on one side.
Again, I'm trying to connect two areas that have been separated for over 60 years. Both have enormous potential for redevelopment — new construction & adaptive reuse to the south and mostly captive reuse to the north. I'd love to see football fans have pre-game drinks at Shady Jack's Saloon and then walk down to the Dome to see the St. Louis Battlehawks when the XFL returns under new ownership.
We must use this moment to correct past mistakes!
— Steve Patterson
n