No, I don't want the rails to be painted green. Instead I want the space between the rails to be green with vegetation, where possible.
Why? Aesthetics, cooler temperatures, management of stormwater runoff, etc.
Green track isn't limited to only historic lines, it's increasingly common in Europe with some limited use in North America.
Over more than 6 (six) decades Green Tracks are popular through out Europe in dense urban areas. They are a fantastic tool to mitigate stormwater issues, to reduce noise and certainly to beautify their integration. Green light rail tracks demonstrate environmental responsibility and they value their customers by making things nice, green and beautiful. Today there are over 500 miles of Green light-rail tracks in Europe.

The living green layers within and around the tracks reduces the noiseand absorbs stormwater. Thus, reducing combined sewer overflow. Modern track systems are typically Ballastless Tracks or Slab Track systems. Basically, a traditional elastic combination of ties/sleepers and ballast is replaced by a rigid construction of concrete or asphalt. Because such systems are ideal for greenery, it is even possible to create additional stormwater retention and detention from surrounding impervious areas with the system.

Already, in 1995 Green Roof Technology filed patents for greening systems on Ballastless Track systems. Currently there are around 300 miles of green tracks in Germany alone. As a result, these tracks eliminate at least 150,000 gallons of water per years from entering the combined sewer system.

In North America, Baltimore started with some experimental Green Light-rail Tracks in 2011 insisting on Sedum mats. The testing was less promising because Sedum mono-cultures are not a good choice for most green light-rail track system. Unfortunately the advice from Green Roof Technology using a smart mixtures of grasses, herbs and wildflowers was not heard. Some call it learning by doing – well – they just don't do it. (Green Roof Technology).
Typically rails are supported by ballasts, treated wood or concrete pieces set into the ground perpendicular to the rail. Our original 1993 light rail line used wood ballast, the 2006 Shrewsbury extension (aka Blue) line was constructed with longer-lasting concrete ballasts.
Our current lines are Red & Blue so naturally I'd like this new line to be the Green Line. Green track for the Green Line!
It can't be everywhere, but in many places it can be. A lot of the new line would be in the center of Natural Bridge, which recently went through a quick traffic calming project that reduced vehicle travel lanes to one per direction. Adjacent to Fairgrounds Park the center is green — would be greener if not on top of asphalt.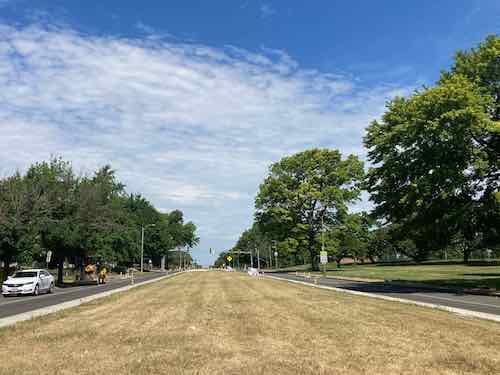 I think the green looks nice, helps keep the area slightly cooler.
While we're on the subject of alternatives to impervious concrete, another would be water — yes, wet track! Rail going through a fountain…
Not sure if or where this might work, but I think it's very interesting. Perhaps on Jefferson near the stop near Olive or Market? Guests in new hotels could look down from their rooms and see transit & water converge.
I'd just like us to consider something other than boring ordinary impervious paving.
— Steve Patterson