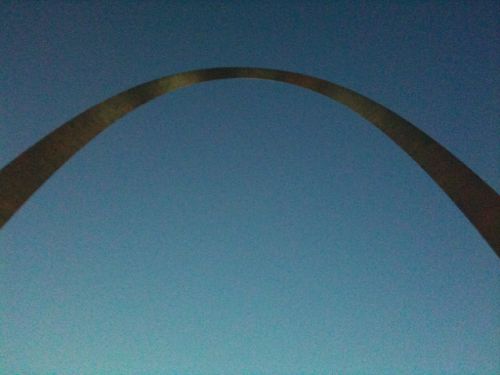 If the folks at CityArchRiver plan to get voters to approve a 3/16¢ sales tax with part of the funds paying off bonds for their 2015 project they've got their work cut out for them. I think it's fair to say the readership here is more pro-city than the region at large but not even half of those that voted indicated they'd support such a tax:
Q: Would You Support A 3/16¢ Sales Tax Increase for Parks/Arch?

Yes, we need to invest in parks and the Arch is a major tourist attraction for the region 67 [49.63%]
No, sales taxes are too high already 45 [33.33%]
Maybe 15 [11.11%]
Other: 7 [5.19%]
Unsure/No Opinion 1 [0.74%]
Those that answered "maybe" could be the deciding factor on approval, assuming 50% +1 is what's needed for approval. Here are the other answers that were submitted:
Not for the current arch ground plan, we need to start over again I'm afraid
for city parks, yes, National Parks, no
Not unless it will help pay for removal of the depressed/elevated section of I70
Yes, but lets also include Jefferson County
No, not for the current project. Save local funds for metro expansion (N/S Line)
Only if they got rid of the ridiculous idea of the gondola going across the rive
yes but only if the bill is expanded to all of the METRO AREA
We'll see what happens if a tax increase measure is placed on the ballot for voters to decide.
– Steve Patterson