Will the next 22 years be just as interesting as the first 22?
It was 22 years ago today that I first saw the City of St. Louis, it was truly love at first sight. The city had seen better days long before I was born, but the potential sparked my imagination about what this place could become. Problems were everywhere.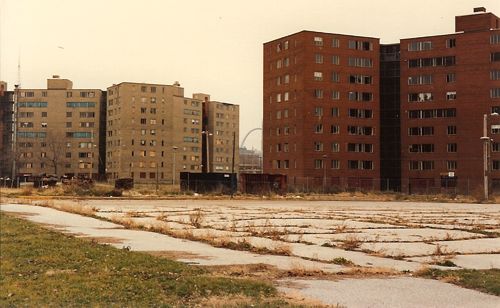 Much was in the very recent past or even still to come:
The former St. Louis Centre downtown mall was just five years old.
Union Station had only been reopened as a "festival marketplace" for 5 years.
The Gateway Arch parking garage was only 4 years old. Current plans call for it to be razed.
The Gateway One office building, now known as Peabody Plaza, was also just 4 years old.
The 14th Street Pedestrian Mall opened 13 years earlier in 1977, but had already failed. It would take the next two decades to remove the failed experiment.
The Kiel Opera House was still open, although it closed months later.
Hockey was played in the Arena on Oakland.
Getting to/from the airport required a vehicle because we didn't have light rail.
Boatman's & Mercantile were the biggest banks in town, both local with histories dating back to the 19th century.
St. Louis was down about not having an NFL football franchise, the Cardinals had moved to Arizona 3 years earlier.
Vince Schoemehl was elected to his third term as St. Louis mayor the year before (1989).
The 1990 Census, taken months before I arrived, would show a population of  396,685.  By 2010 I'd witnessed a population decline of 77,391.  Not a small number in 20 years time, but the decade between 1970 and 1980 saw more than twice as many people leave: 169,435.
Famous-Barr was the big local department store chain, part of Federated May Department Stores bought by Federated (Macy's) in 2006. The Famous-Barr at Chippewa & Kingshighway had wonderful urban massing & form. It was razed to build a Home Quarters big box store. The HQ chain closed in 1999 before the store would be built.  Central Hardware was the local home improvement chain, it closed in 1997.
Yes I'm feeling nostalgic, I usually do on anniversaries.  But the real lesson here is people, and the places where they live, aren't static. Change is a constant.  This isn't inherently good or bad — it just is.
What changes will I be able to write about 22 years from now?
 Continued population losses? Increases?
St. Louis elected first female mayor?
Several expansions of the local modern streetcar system connected the city (north, central, south) and the older inner-ring suburbs.
Board of Aldermen reduced in size?
St. Louis razed the old I-70 (elevated & depressed sections) downtown?
City rejoined St. Louis County as one of many municipalities? City, County and municipalities merged into a unified regional government?
Daily physical newspaper no longer printed?
Earthquake hit St. Louis?
Bill Haas elected to an office higher than the school board?
St. Louis adopted a city-wide urban form-based zoning code?
Tired & outdated Loughborhough Commons replaced with a dense mixed-use development?
I'm as excited about the future of St. Louis as I was 22 years ago. I'm less naive I was then but I'm forever an optimist, albeit a critical one.
— Steve Patterson