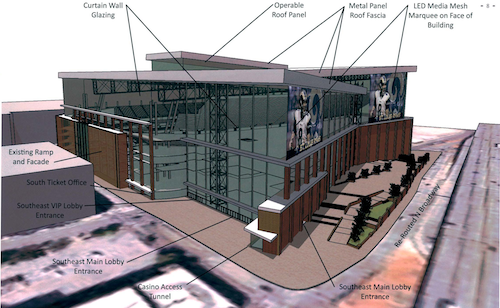 No doubt about it, I'm ready for the Rams to pack their bags. Head to Los Angeles, or London, I don't care. St. Louis has three professional sports teams right now, that's at least one more than we can realistically support. Without question the St. Louis Cardinals MLB team has the most love from the region.
I don't think we, as tax payers, should support any progressional sport other than buying a ticket if we want to see a game. These teams are owned by very wealthy people who do this as a hobby. That said, I do believe in investing in infrastructure so that additional private investment is made. But I don't see investing $1 to get a 15¢ return. I want government to invest $1 and get a $5 return on that investment through additional investment and/or tax revenue.
With the number of MLB games and the excellent performance of the Cardinals we probably break even on the government-funding of Busch Stadium. Well, once we actually see some revenue from a complete Ballpark Village. But NFL plays so few home games per year it seems impossible to get a decent return on our investment. I've not studied the numbers but many have. I found a PDF called 8 Reasons to Reject Publicly Financed Stadiums For Professional Sports Teams that has a good list:
Public Money for Private Gain.
Negligible Economic Benefits.
Costs Outweigh the Benefits.
Destroys jobs and drives down wages.
Stadiums can be built with private money.
Doesn't Improve Team Performance.
Doesn't improve team attendance. Research also shows that new stadiums have little impact on long-term attendance.
Diverts resources from funding priorities.
Click the link above to see explanations for each item.
But perceptions about sports will muddy this issue. The following are taken from the same commenter on the original post, but from two different comments:
 If St. Louis goes dark in pro football, it will be a big loss to the region.  St. Louis needs and can support three pro sports.
Warning, the sky will fall. We need three pro teams. BS!! For most of the last 50-60 years we've had 2-3 pro sports teams. How has that benefitted us? We've lost population, schools have declined, the corporate headquarters here has dropped. If you'll have less civic pride if we go from three to two pro teams then you don't really appreciate all that St. Louis is about. We didn't have pro football when I moved here in 1990, it wasn't important to me personally.
The provided answers in my poll last were very biased, something I try to avoid. But it happened.
Q: How Should The St. Louis Region, via the CVC, Respond To The Rams?

Wish them well in London, LA, or ? 68 [45.64%]
Agree to their proposal but only if it comes with a new 30-year lease 51 [34.23%]
Remind them the Cardinals won the World Series twice since the one time the St. Louis Rams won the Super Bowl. 14 [9.4%]
Other: 13 [8.72%]
Bendover and pay whatever it takes to keep them here for the last 10 years of the original lease 2 [1.34%]
Unsure/no opinion 1 [0.67%]
The other answers were:
certainly don't bendover but emphasize compromise
Make some improvements but not 700m worth
Less Public $, More Private $ otherwise deal's over.
I'm trying to care about this, but I just can't.
Your options certainly show your bias
how about compromise, STL NEEDS NFL
Negotiate a new lease, meet the Rams somewhere in the middle
Ignore them.
Tell Kroenke to go **** himself
Don't have anymore regional funds to waste on the rams…
The answers you provided clearly show your bias in this poll
negotiate
tif or special use tax
If the Rams want to build a privately financed facility in Fenton or somewhere  out in big open space I'd have no objections. Otherwise, get lost. The CVC's original proposal was excessive and the Rams' response isn't even close to reality. They are testing us to see how gullible we are. We were desperate to get a team twenty years ago when we were building the dome but weren't awarded an expansion team. We got screwed on the terms of the original lease, I don't want us to get screwed again.
— Steve Patterson