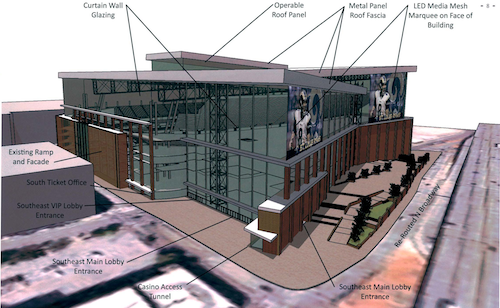 The CVC has until June 1 to accept or reject the Rams' proposal:
The Rams' proposal was released against their wishes on Monday, a response to the dome improvement plan submitted by their landlord, the St. Louis Convention and Visitors Commission, in February. And the discrepancy is wide: The CVC plan called for $124 million in upgrades, 52% of which would be paid for by the Rams; the team's plan called for a complete overhaul estimated by the city to cost more than $700 million, and it wasn't clear how it would be funded. (USAtoday.com)
My post from Tuesday is here, it includes a link to the proposal. Who holds the cards in the negotiations?
Los Angeles is really the only viable remaining market in North America that would potentially support an NFL team and help the league generate greater revenues. If they don't build a facility, or if they do but another franchise beats Kroenke to the punch, then Kroenke's negotiating leverage versus the CVC will be weakened. (Forbes)
Well we've got great negotiators here in St. Louis! We got the Kiel Opera House 20 years ago and that vibrant Ballpark Village in 2006. Oh wait…
The poll this week asks how the St. Louis region, via the CVC, should respond. I say we wish them well wherever it is they move after the 2014 season.
– Steve Patterson