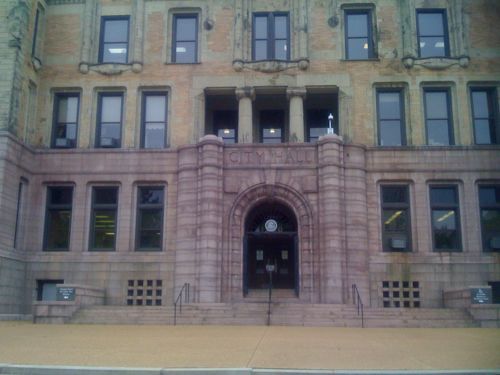 The St. Louis Board of Aldermen will meet at 10am today, their 32nd week of the 2017-2018 session.
NEW BOARD BILLS ON THE AGENDA* FOR INTRODUCTION TODAY 2/2/18:
*Note that just because a bill is on the agenda doesn't mean it'll be introduced, similarly, bills not on the agenda might be introduced if they suspend the rules to do so. This information is based on the published agenda as of yesterday @ 8am:
B.B.#251 – Howard ? An Ordinance establishing a two?way stop site at the intersection of Alfred Street and Bingham Street regulating all traffic traveling northbound and southbound on Alfred Street at Bingham Street, and containing an emergency clause.
B.B.#252 – Boyd ? An ordinance recommended by the Board of Public Service authorizing the 2018 St. Louis Works and the 50/50 Sidewalk Programs City Wide, appropriating $5,300,000.00 from the Street Improvement Fund; containing sections for description of the work, approval of plans and specifications, work and material guarantees, estimated costs from City funds and supplemental agreements and reversion authorizations, applicable state and federal wage rate requirements, equal opportunity provisions, the Mayor's Executive Orders, contract advertising statutes, and a public work emergency clause.
B.B.#253 – Roddy ? An ordinance pertaining to parking within "Talmage Residential Parking District"; containing definitions, a penalty clause and an emergency clause.
B.B.#254 – Williamson ? An ordinance approving a Redevelopment Plan for 1301 Union.
B.B.#255 – Coatar ? An ordinance promoting the use of energy efficient heating through the connection to the Downtown Steam Distribution system; requiring the continual use of the Downtown Steam Distribution System for any development project occurring in Downtown St. Louis seeking Municipal Financial Incentives; prohibiting the Clean Energy Development Board of the City from approving financing for any project that would result in a commercial building disconnecting from or no longer using the Downtown Steam Distribution System for heat; a portion of the net profits be remitted to the SWMDC and containing a severability clause.
The meeting begins at 10am, past meetings and a live broadcast can be watched online here. See list of all board bills for the 2017-2018 session.
— Steve Patterson