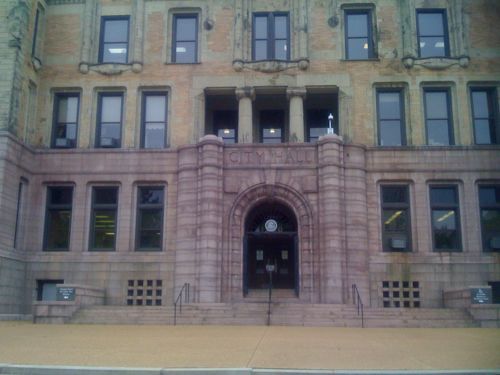 The St. Louis Board of Aldermen will meet at 10am today, their 7th meeting of the 2018-2019 session.
Today's agenda includes four (4) new bills:
B.B.#68 – Tyus – An ordinance to regulate employer and employee working relationships between the City and all employees under the Classified Service, including a compensation plan, terms and conditions of employment, benefits, leaves of absence, and authorization for a Deferred Compensation Plan; repealing Ordinance 70285; allocating certain other employees to a grade with rate; and including an emergency clause.
B.B.#69 – J. Boyd – An ordinance recommended by the Parking Commission making appropriation for payment of the operating expenses, capital equipment and improvement expenses, including lease purchase agreements involving Parking Division assets, and debt service expenses of the Parking Division of the Treasurer's Office, Kiel & City Hall Parking Facilities, Information Technologies, Argyle Parking, Chouteau Building & Parking Facility, Williams Paper Parking, Central Downtown Parking, Buckingham Parking, Cupples Parking Facility and Justice Parking Facility for the fiscal year beginning July 1, 2018 and ending June 30, 2019, amounting in the aggregate to the sum of Sixteen Million, Two Hundred Twenty One Thousand, Nine Hundred Two Dollars ($16,221,902) and containing an emergency clause.
B.B.#70 – Navarro – An ordinance approved and recommended by the Board of Estimate and Apportionment and the Board of Public Service; authorizing a First Amendment of the Lease Agreement authorized by Ordinance 63956 between the City, and the Municipal Theatre Association of St. Louis by amending Section 2. Term; Section 4. Other Consideration (a) Forest Park Improvements; and Exhibit C; with an emergency provision.
B.B.#71 – Vaccaro – An ordinance establishing a three-way stop site at the intersection of Pernod Avenue and Tedmar Avenue regulating all traffic traveling eastbound and westbound on Pernod Avenue at Tedmar Avenue and regulating all traffic traveling southbound on Tedmar Avenue at Pernod Avenue, and containing an emergency clause.
The meeting begins at 10am, past meetings and a live broadcast can be watched online here. See list of all board bills for the 2017-2018 session — the new bills listed above may not be online right away.
— Steve Patterson